China's activity in Pacific triggers U.S. interest
WASHINGTON, D.C. - The growing presence of China in the Pacific has triggered the attention of the United States (U.S.) to turn its focus to the region and strengthen ties with the island nations, a Congressman says.  
The representative for Hawaii's 1st district, Congressman Edward Case, says the U.S. has been embroiled in the Middle East in the last 20 years and "it's time to turn back to the Pacific". 
He argued the attention given to the Middle East was in light of the September 11 terrorist attack in 2001 which had directed the U.S. attention to the threat of terrorism. 
"We are there [in Pacific] but you are correct we have at times lapse[d] in terms of personal attention to the Pacific," Congressman Case said during a meeting with journalists from the Pacific this week. 
"I think we have at time not fully appreciated relationship built on relationship and time devoted. People appreciate more personal on the ground influence and diplomacy from U.S. needs to change and have more people to people relationship." 
The representative met with Pacific journalists hosted by East-West Center in Washington D.C. attending the Pacific Island Journalism Reporting Tour 2019. 
Mr. Case responded to questions about the preference of some Pacific states to China due to its accessible aid and loan for infrastructure when compared to other donor partners. 
"I think you have to ask yourselves - who deal directly with China everyday - would you want in 50 years to live essentially under China influence?," said the Congressman. 
Mr. Case does not believe that the model projected by China in its "One Belt, One Road" initiative is the right system for democratic governance. 
He argued the strong presence from China is not about selfless striving to improve the world but to project power and influence.
"Again the concern in the Pacific nations that have desperate dire need for assistance, I feel they have no choice but to go that direction and that is the dilemma right now," said Mr. Case. 
"I think we have to not allow that to happen that people feel they have no choice."
A Lowy Institute Pacific Aid map showed that China is on the top five donors to the Pacific region accounting for U.S$133.92 million of total U.S$2.19 billion committed to the islands from 2011 to 2016.  
On the top of the list is Australia, which contributed to $798.70 million in aid followed by New Zealand which gave about $192.01 million to the Pacific region for the period. 
For the span of those five years, the U.S. committed $65.93 million with majority of its funds going towards the Federated State of Micronesia, Papua New Guinea and Marshall Islands. 
U.S. officials had argued that their grants given to the Pacific has no expectations to be paid back whilst the China aid is on the basis of low interest and some concessional loans. 
Prime Minister, Tuilaepa Dr. Sailele Malielegaoi, has previously spoken up against the Australia and U.S. declaring "their enemies are not our enemies". 
Tuilaepa had said if countries against China objected to Beijing's support for the region "they should come and provide the assistance that China is providing". 
"And all those complicated issues impacting on the geopolitical relationship between the past, that is far beyond our concern," he said. 
"That is why I have often mentioned this — our friends and their friends are our friends. But their enemies are not our enemies."
The Congressman was also asked about what options the is U.S. giving the Pacific for its infrastructure needs. 
He made reference to human capital developments, humanitarian works such as Peace Corps amongst other initiatives, which he said the U.S. needs to continue and increase its support for. 
Case added the U.S. is mainly interested in providing security for the Pacific in which he believes the next generations will be largely defined with its future with China.  
"I think that is going to determine a lot of what will happen in the next generation and I believe we are in a period of great difficulty," he said. 
"We know that China is trying to project its power and influence and we are certain that they are very active in the pacific and many other countries."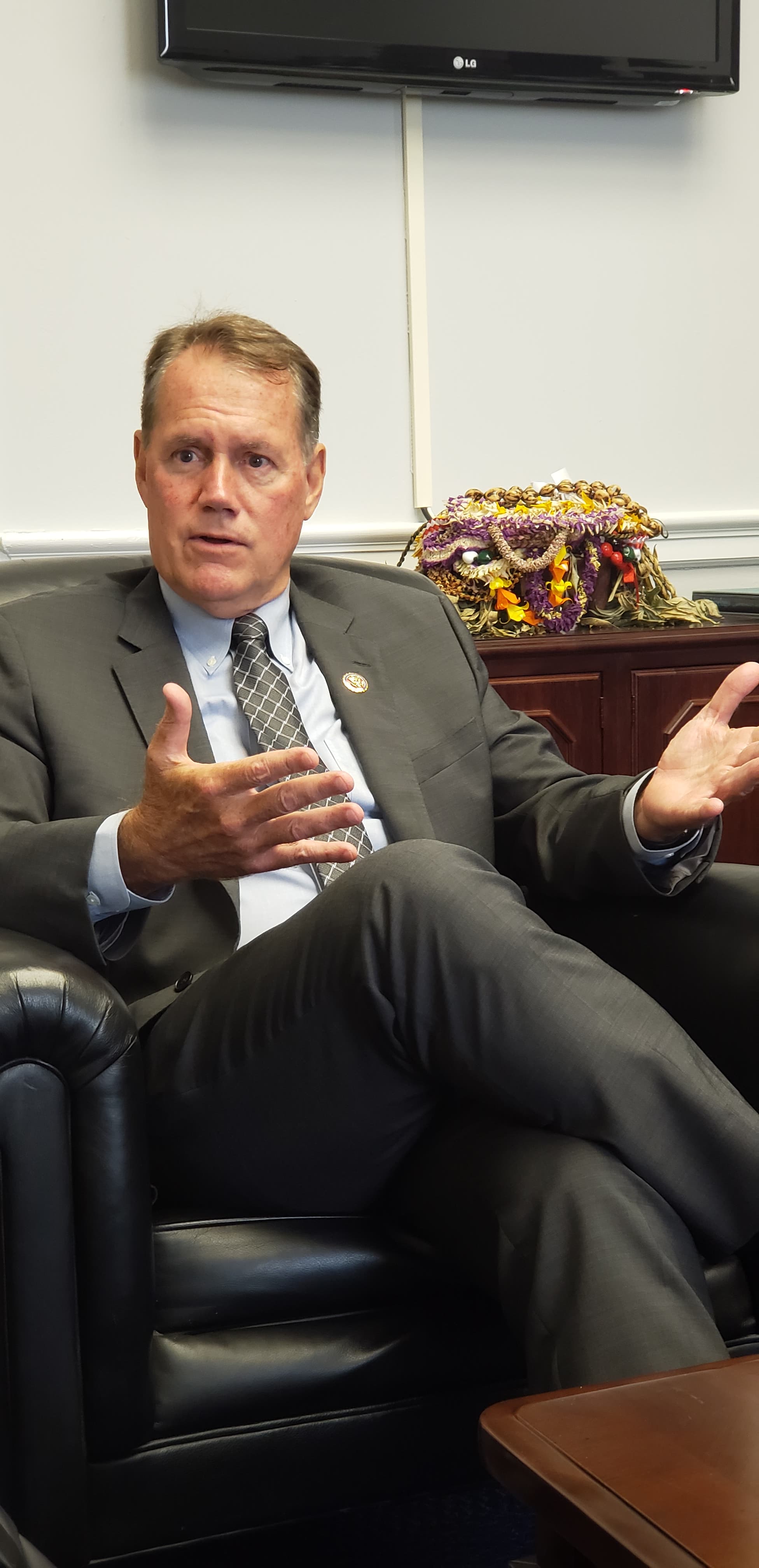 A U.S. senior military officer also agrees about the long-term strategic challenge that China presents to the region. 
Commander for the U.S. Indo-Pacific Command, Admiral Phil Davidson, is convinced that China has a state long term vision to disrupt the international order that has led to the kind of global economic and political structure and replace it with one of their own. 
"They frequently talk about one of their Chinese characteristics so we really think that's the long-term strategic threat in the region," said Adm. Davidson. 
He stated Russia plays the role of the "spoiler" in the region but is more active in the Eastern Europe, Central Asian sphere than the Indo-Pacific. 
"But they are concern[ed] and they are working more closely with China, in the military realm certainly, in the diplomatic realm as well," he said. 
"And it leads to real genuine concern that the very large, what we call conventional, non-nuclear capability China is a nuclear power but they have a very large conventional capability"
Adm. Davidson said Russia has an extraordinarily large nuclear capability when those two nations work together it's quite threatening to the rest of the world.
He argued that China is expanding its presence in the region and in what he calls all domains.
"So they're doing it diplomatically, bigger embassies, more consulates, more attachés, those are military people that work in an Embassy," he said. 
"They're doing it in the economic sense commercial investment is evident. 
"There is, of course, the One Belt One Road which is a very, I think, unfortunate pernicious approach to development that they've revealed in the last few weeks that they do intend to use for security purposes which was unfortunate. 
"I think for all your nations events like are happening in Hong Kong right now should be alarming."
He also warned about situations such as in Sri Lanka last year where Hambantota Port was taken over after loans could not be repaid. 
"That provided a lease for 99 years and access to the Chinese military," said Adm. Davidson. 
He explained the Chinese are offering loans that are not viable for the benefit of the country nor are they redeemable in terms of payback. 
"When they can't be paid back then they activate this sovereignty clause in which China can have access for military purposes," he said.  
"Some very interesting things they've done with casinos, proposals for security, economic zones in a place like Cambodia where they actually intend to have an area within Cambodia that would be solely dominated by Chinese."
However such criticism towards China's assistance in the Pacific has been described as "ignorant" and prejudiced". 
Chinese Ambassador to Samoa, Chao Xiaoliang dismissed speculations of "debt trap" created by foreign aid programme.
"Rather than pointing fingers at China's good deeds, those who keep on making groundless accusations and speculations might as well do more themselves to provide help to the Pacific island countries," Chao previously stated in a letter.
"Some people questioned the purpose of China's aid, even disregarded the facts and fabricated the so-called 'China debt trap'this is either of prejudice or ignorant of China's foreign aid policy."
China's aid comes largely in the form of low-interest loans, but critics say it leaves debtor nations beholden to Beijing, eroding their independence.