Fears over threat of mountain tree in Samoa becoming extinct
Conservationists fear that a species of Samoan tree may be extinct after a two-month search failed to turn up any sign of it. 
The Vavaea samoense is a 16 metre high tree that grows only on Mount Le Pue on Upolu; it was one of four species targeted for surveying, collection and propagation for conservation due to fears of their endangerment.
The Samoa Conservation Society (S.C.S) and the Ministry of Natural Resources and Environment (M.N.R.E) spent two months travelling Samoa on the hunt for four out of around 100 endangered native species.
The Vavaea was the only species they could not find.
"It could be extinct, which is a bit of a worry," said James Atherton, President of S.C.S.
"We looked and looked. The cyclone damage up there is bad and it could possibly be extinct although we don't know for sure."
Mr. Atherton said that all that may be left are very young trees, and could be hard to find. They may be growing somewhere out there and another visit is planned to look again.
Because of their home in the mountains, at an elevation of 885 metres (which is taller than the Burj Khalifa, the tallest building in the world), the vavaea and its neighbouring species are especially vulnerable.
"They have been decimated by cyclones and climate change will impact them the most. 
"They will face changes in temperature, in ecological conditions, and climatic changes," Mr. Atherton said.
"We don't know how they will survive when it's warmer and wetter, and there will be more cyclones too."
The team of researchers, which included veteran botanist Art Whistler, did find their other targets.
One of those is the Alectryon samoensis, which has no Samoan name. It is a tree only found in Aopo.
"Some plants don't have local names, because there is no use for them," Mr. Atherton said. 
One that has been used more often is the pau, or manilkara samoensis. It is rare hardwood tree used in Falealupo to make handicrafts and axe handles, and botanists fear it may be overharvested and will not last much longer.
And the endemic Samoan palm, Manilkara samoenses or niu vao, was also located in the hills of Afiomalu where it grows exclusively. The photo is of palms found in Afolilo.
Mr. Atherton and the team managed to collect fruit which to grow seedlings from in the nurseries in Vailima, and in the National University of Samoa Herbarium. 
They will establish new groves of these trees, as well as replant at the sites they found the species, he said.
"We want partners growing these plants, because the more places you can grow them the more likely they are going to survive."
The Botanic Garden Conservation Institute (B.G.C.I.) is funding the M.N.R.E and S.C.S with £9,000 (T$29,742) to support this conservation work. 
They are also on their own mission, to help Pacific Islands nations catalogue their endangered and threatened species according to the International Union for Conservation of Nature Red List.
The Red List is a "critical indicator" of biodiversity around the world. It catalogues the status of species and speaks to their use, threats, and how to save them.  
This week, botanists from the region gathered in Samoa to learn how to enter their endangered species into the Red List, using prepared guidelines. They are also helping them determine which species are, in fact, endangered.
Today, the Red List has no Pacific specific database of endangered species, and the B.G.C.I wants to change that.
Conservation Officers Emily Beech, Megan Barstow and the Director of Regional Programmes, Joachim Gratzfeld, are part of the team working on the Global Tree Assessment, trying to catalogue every single tree in the world by 2020.
By 2017, they had 60,065 entries on the first internationally comprehensive list.
They have successfully won funding to finish it, and are investing in the Pacific where they have the least information.
"It's a big task," Ms. Beech said.
"There are over 3000 trees in the region, and 1800 of them are endemic to the region, meaning they are not found outside.
"It's an important policy influencer, because you find out more information about your country or region's tree species, which ones need the most effort and which ones need protecting."
Having the region's specialists in the same room is helping the process along. Many of the species in the Pacific are found in multiple countries or have similar species that are. 
They also face similar threats from climate change, agriculture and invasive species like introduced tree species or pests, so the group can help each other with the complicated cataloguing process.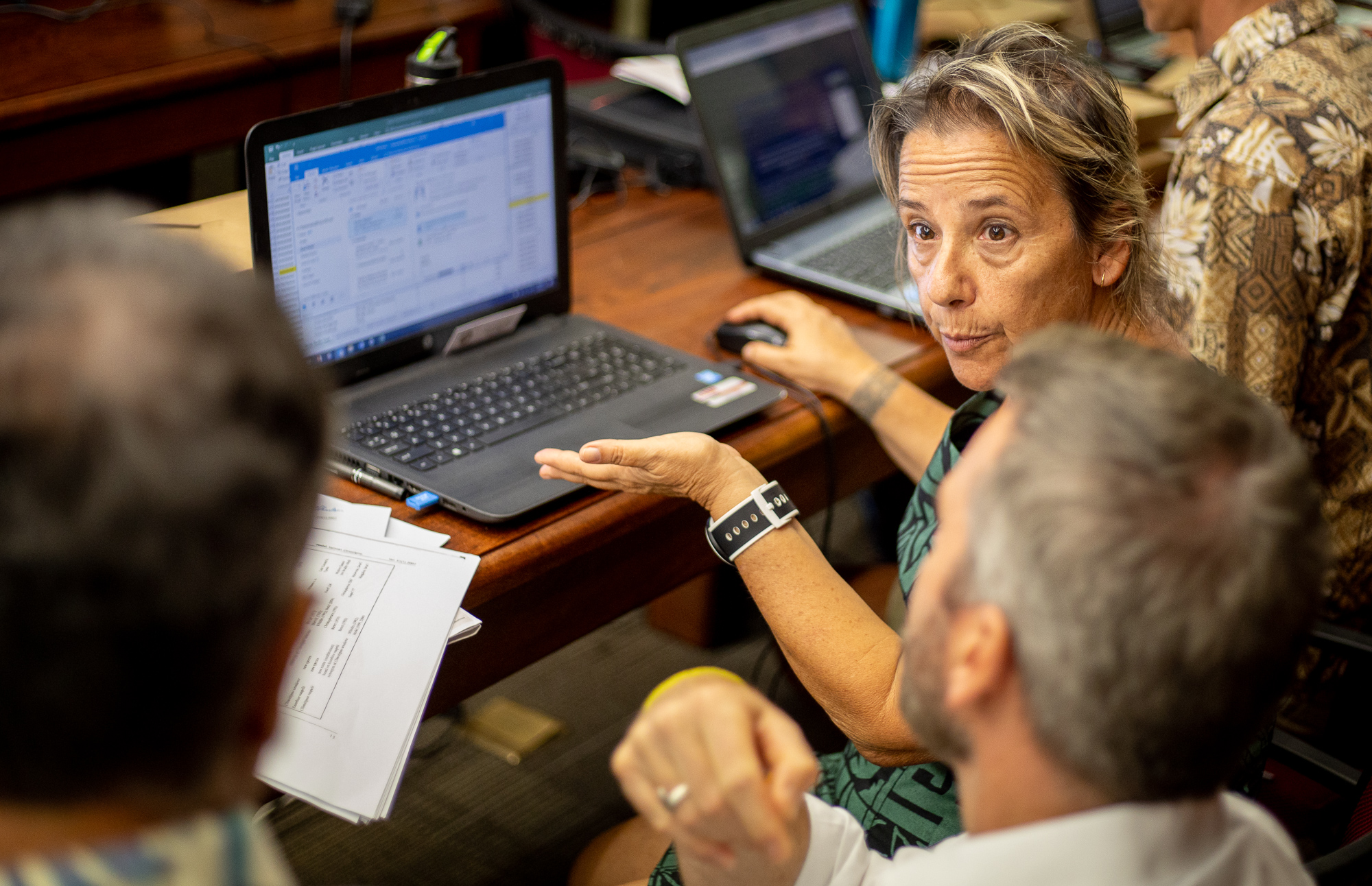 Ms. Beech said ultimately, saving endangered trees is essential. 
"You also have amazing wealth of species that are native and much less widely known and they are important plants to conserve because they don't exist anywhere else in the world. It's something to be proud of," she said. 
"Some of these plants are really important for food, for cultural purposes, agricultural purposes, they have a real impact on people's livelihoods. Understanding why they might be declining or how we can use them sustainably is really important for making sure we don't lose that resource as well."

Mr. Gratzfeld said the efforts are seeking to inspire appreciation for conservation more generally. 
"It's always more difficult to develop conservation programmes for plants than for animals in terms of fundraising and interest. It's not a fluffy nice animal," he said. 
"And at the end of the day, without plans, there is no further life."
Update: This article was amended to correct the height of the Vavaea samoense tree.