2019 Champ of Champs a huge success
The Champion of Champions national high school athletics competition brought together schools from across Samoa for the ultimate track and field contest at Apia Park on Friday.
Tuasivi College from Savai'i won the Junior Girls' division after a dominant, triple-record-setting outing on the track from Pacific Games Athlete Fata Feloi, who won the 100, 200 and 400m as well as leading the 4x100m relay team to first place.
The Church College of Pesega won both the Intermediate and Senior Girls divisions, having topped the  Intermediate 4x100 and 4x400 relays and dominated the Senior field events.
Avele College won both Junior Boys' relays, setting them up to take the division title thanks to the strength of track athletes Livigisitone Savaiinaea and Rapture Enoka.
St Joseph's College were similiarly strong in the Intermediate Boys division, as they won both relays and lit up the track.
Vaimauga College took the Senior Boys title with their strong track team led by Pacific Games basketballer Bright Duah, who came second in the 100m and third in the 200m, while Filipo Saumani set a new 400m hurdles record.
Overall results


Junior Girls
1st: Tuasivi College (Zone C)
2nd: Leulumoega Fou College (Zone D)
3rd: Nuuausala College (Zone D)


Intermediate Girls
1st: Church College of Pesega (Zone B)
2nd: Falealili College (Zone A)
3rd: Aana No. 2 College (Zone D)


Senior Girls
1st: Church College of Pesega (Zone B)
2nd: Savai'i Sisifo College (Zone C)
3rd: Chanel College (Zone B)


Junior Boys
1st: Avele College (Zone A)
2nd: St. Joseph's College (Zone B)
3rd: Nuuausala College (Zone D)


Intermediate Boys
1st: St. Joseph's College (Zone B)
2nd: Church College of Vaiola (Zone C)
3rd: Itu o Tane College (Zone C)


Senior Boys
1st: Vaimauga College (Zone A)
2nd: Don Bosco College (Zone C)
3rd equal: Leifiifi College (Zone A), Avele College (Zone A)
Track results


100m


Junior Girls
1st: Fata Feloi (Tuasivi College, Zone C)
2nd: Siiva Muga (Falealili College, Zone A)
3rd: Ruhama Mua Enele (Aana No. 2 College, Zone D)
Intermediate Girls
1st: Maria Malo (Church College of Pesega, Zone B)
2nd: Marylin Akeli (Don Bosco College, Zone C)
3rd: Precious Fuiono (Leulumoega Fou College, Zone D)
Senior Girls
1st: Fa'alua Lefulefu (Avele College, Zone A)
2nd: Mileta Fa'aliga Sua (Don Bosco College, Zone C)
3rd: Danielle Tanielu (Leifiifi College, Zone A)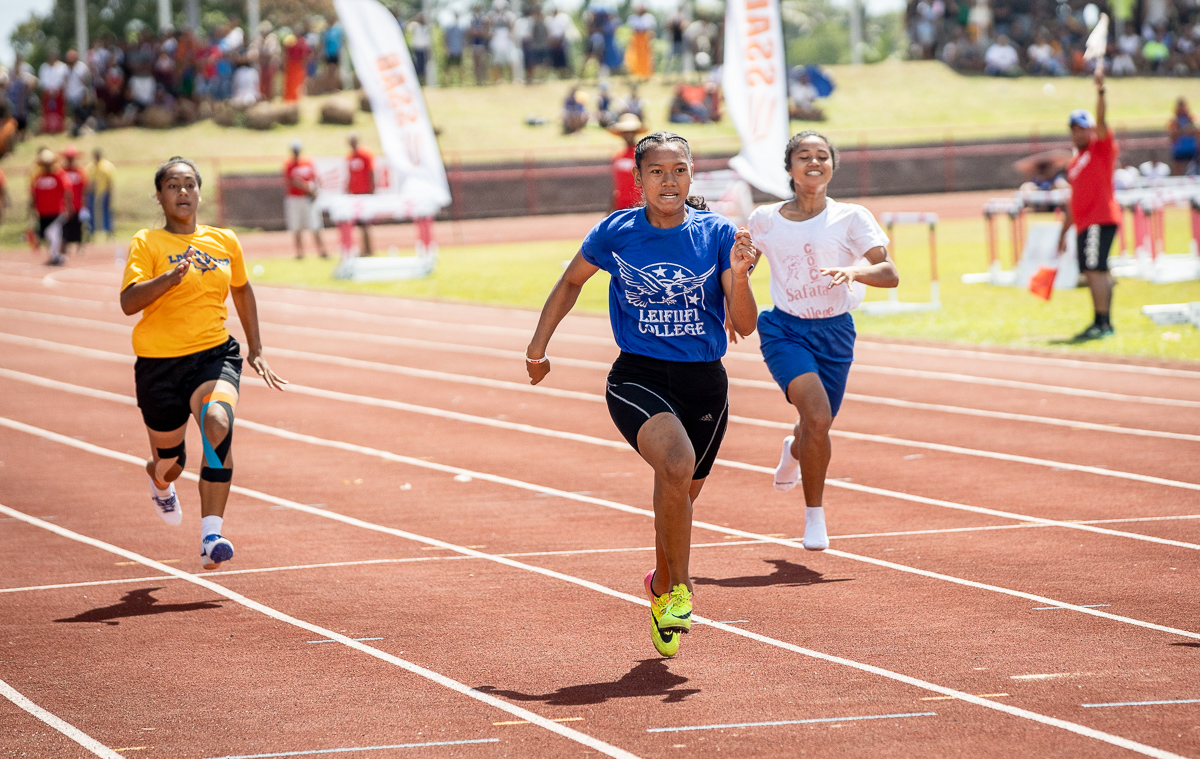 Junior Boys
1st: William Hunt (St Joseph's College, Zone B)
2nd: Ropati Faio (Chanel College, Zone B)
3rd: Edmen Uiese (Avele College, Zone A)
Intermediate Boys 
1st: Johnny Key (St Joseph's College, Zone B)
2nd: Fa'aolaina Lafuoatua (Leulumoega Fou College, Zone D)
3rd: Michael Sanele (Nuuausala College, Zone D)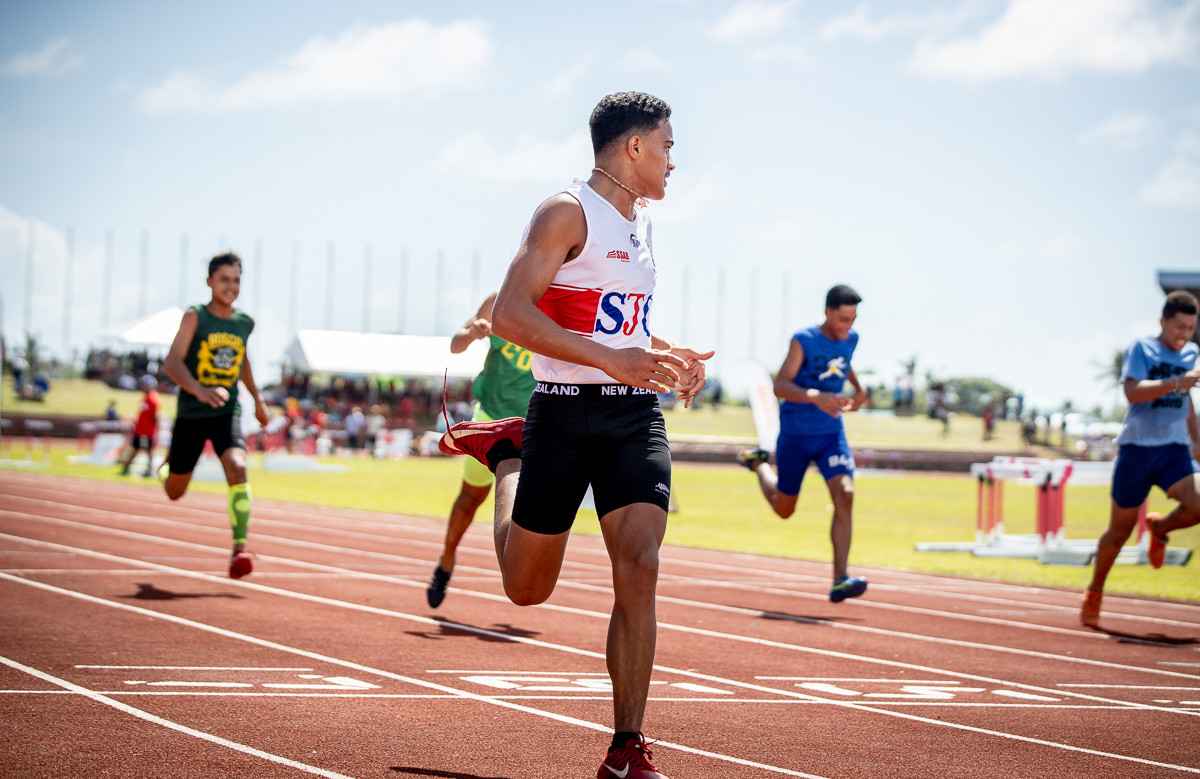 Senior Boys
1st: Pesamino Iakopo (Don Bosco College, Zone C)
2nd: Bright Duah (Vaimauga College, Zone A)
3rd: Parataiso Mulitalo (Tuasivi College, Zone C)
100m Hurdles


Junior Girls
1st: Araisa Isamaeli (Safata College, Zone D)
2nd: Salaevalu Taisa (St Mary's College, Zone B)
3rd: Faleosina Taulafo (Aleipata College, Zone A)
Intermediate Girls
1st: Maria Malo (Church College of Pesega, Zone B)
2nd: Fanolua Siaosi (Aana No. 2 College, Zone D)
3rd: Penina Vitale (St. Paul's VI College, Zone D)
Senior Girls
1st: Danielle Tanielu (Leifiifi College, Zone A)
2nd: Chiulaan Chen Xia (Chanel College, Zone B)
3rd: Jaya Paiali'I (Faleata College, Zone B)
Junior Boys
1st: Livigisitone Savaiinaea (Avele College, Zone A)
2nd: Rapture Enoka (Avele College, Zone A)
3rd: Faiga Kepu (Robert Louis Stevenson College, Zone B)
110m Hurdles


Intermediate Boys 
1st: Steve Tomasi (St Paul's VI College, Zone D)
2nd: Jireh Westerlund (St Joseph's College, Zone B)
3rd: Tualeso'o Leo'o (Anoamaa College, Zone A)
Senior Boys
1st: Tomasi Teo (Church College of Pesega, Zone B)
2nd: Leo Siole (St Paul's VI College, Zone D)
3rd: Daniel Toalua (Leifiifi College, Zone D)
200m


Junior Girls
1st: Fata Feloi (Tuasivi College, Zone C)
2nd: Ruhama Mua Enele (Aana No. 2 College, Zone D)
3rd: Salaevalu Taisa (St Mary's College, Zone B)
Intermediate Girls
1st: Marylin Akeli (Don Bosco College, Zone C)
2nd: Maria Malo (Church College of Pesega, Zone B)
3rd: Precious Fuiono (Leulumoega Fou College, Zone D)
Senior Girls
1st: Fueselela Tavui (Chanel College, Zone A)
2nd: Fa'alua Lefulefu (Avele College, Zone A)
3rd: Mileta Fa'aliga Sua (Don Bosco College, Zone C)
Junior Boys
1st: William Hunt (St Joseph's College, Zone B)
2nd: Livigisitone Savaiinaea (Avele College, Zone A)
3rd: John Lameko (Church College of Pesega, Zone B)
Intermediate Boys 
1st: Johnny Key (St Joseph's College, Zone B)
2nd: Bill Fiti (Avele College, Zone A)
3rd: Utuofiti Tapelu (Itu o Tane College, Zone C)
Senior Boys
1st: Pesamino Iakopo (Don Bosco College, Zone C)
2nd: Parataiso Mulitalo (Tuasivi College, Zone C)
3rd: Bright Duah (Vaimauga College, Zone A)
400m


Junior Girls
1st: Fata Feloi (Tuasivi College, Zone C)
2nd: Matanofo Siaumau (Alofi o Taoa College, Zone C)
3rd: Ulata Maoai (Nuuausala College, Zone D)
Intermediate Girls
1st: Marylin Akeli (Don Bosco College, Zone C)
2nd: Precious Fuiono (Leulumoega Fou College, Zone D)
3rd: Sosefina Paiona (St Mary's College, Zone B)
Senior Girls
1st: Feagai Lauina (Savaii Sisifo College, Zone C)
2nd: Tofuinuu Fa'amiliga (Alofi o Taoa College, Zone C)
3rd: Fueselela Tavui (Chanel College, Zone A)
Junior Boys
1st: Ropati Paio (Chanel College, Zone B)
2nd: Laulima Pena (Tuasivi College, Zone C)
3rd: Donovan Maiava (Church College of Vaiola, Zone C)
Intermediate Boys 
1st: Pio Ilalio (St Joseph's College, Zone B)
2nd: Fale Palota (Itu o Tane College, Zone C)
3rd: Lance Falaniko (Avele College, Zone A)
Senior Boys
1st: Parataiso Mulitalo (Tuasivi College, Zone C)
2nd: Filipo Saumani (Vaimauga College, Zone A)
3rd: Meleniuma Fa'aifo (Don Bosco College, Zone C)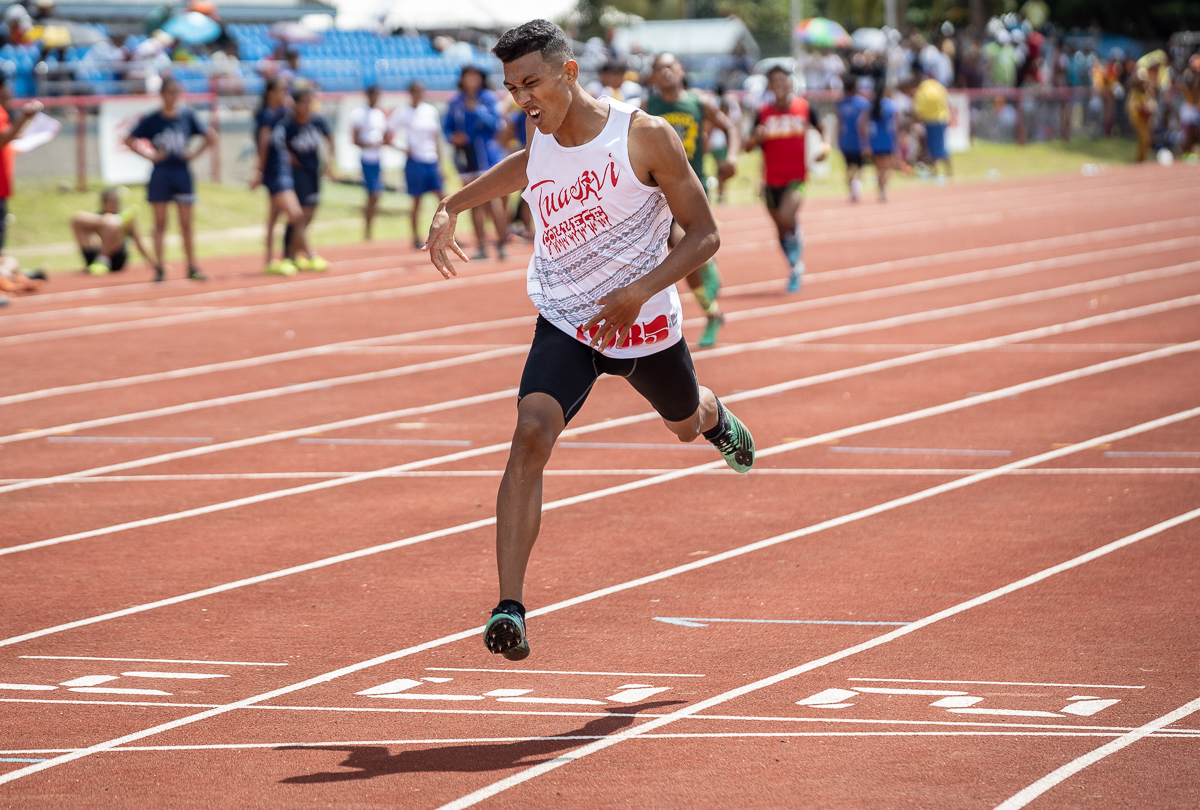 400m Hurdles


Junior Girls
1st: Bangenette Pine (Nuuausala College, Zone D)
2nd: Ulata Maoai (Nuuausala College, Zone D)
3rd: Evelyn Fuiava (Church College of Pesega, Zone B)
Intermediate Girls
1st: Victoria Leva'a (Church College of Pesega, Zone B)
2nd: Sosefina Paiona (St Mary's College, Zone B)
3rd: Toiva Malotutoatasi (Lepa and Lotofaga College, Zone A)
Senior Girls
1st: Analua Ah Tai (Nuuausala College, Zone D)
2nd: Elenoa Niko (Chanel College, Zone B)
3rd: Papaigalagala Taumaoe (Avele College, Zone A)
Junior Boys
1st: Rapture Enoka (Avele College, Zone A)
2nd: Livigisitone Savaiinaea (Avele College, Zone A)
3rd: Perosi Iapela (Anoamaa College, Zone A)
Intermediate Boys 
1st: Jireh Westerlund (St Joseph's College, Zone B)
2nd: Pio Ilalio (St Joseph's College, Zone B)
3rd: Michael Sanele (Nuuausala College, Zone D)
Senior Boys
1st: Filipo Saumani (Vaimauga College, Zone A)
2nd: Pululipano Tofilau (Avele College, Zone A)
3rd: Fuli Fa'afouina (Leifiifi College, Zone A)
800m


Junior Girls
1st: Patisepa Vili (Leulumoega Fou College, Zone D)
2nd: Tiana Tainefu (Aana No. 2 College, Zone D)
3rd: Maria Tautala (Savaii Sisifo College, Zone C)
Intermediate Girls
1st: Victoria Leva'a (Church College of Pesega, Zone B)
2nd: Salvation Edwin (Falealili College, Zone A)
3rd: Vaitai Jr Vivi (Palauli Sisifo College, Zone C)
Senior Girls
1st: Feagai Lauina (Savaii Sisifo College, Zone C)
2nd: Christian Alataua (Sagaga College, Zone D)
3rd: Fala Leiua (Savaii Sisifo College, Zone C)
Junior Boys
1st: Perosi Iapela (Anoamaa College, Zone A)
2nd: Asofa Fa'asipa (Lefaga College, Zone D)
3rd: Allan Matulino (Chanel College, Zone B)
Intermediate Boys 
1st: Jirhel Levy (Chanel College, Zone B)
2nd: Ropati Sefo (Savaii Sisifo College, Zone C)
3rd: Ronnie Lamatia (Palalaua College, Zone A)
Senior Boys
1st: Hamish Ioane (Avele College, Zone A)
2nd: Dilo Tumua (Leifiifi College, Zone A)
3rd: Sammy Garae (Church College of Vaiola, Zone C)
1500m 


Junior Girls
1st: Vailofia Vevesi (Savaii Sisifo College, Zone C)
2nd: Vaotea Viane (Aleipata College of Pesega, Zone A)
3rd: Patisepa Vili (Leulumoega Fou College, Zone D)
Intermediate Girls
1st: Maria Sinia (Aana No. 2 College, Zone D)
2nd: Salvation Edwin (Falealili College, Zone A)
3rd: Fuamata Evile (Savaii Sisifo College, Zone C)
Senior Girls
1st: Feagai Lauina (Savaii Sisifo College, Zone C)
2nd: Daisy Lui (Savaii Sisifo College, Zone C)
3rd: Rosaluni Rosaluni (Anoamaa College, Zone A)
Junior Boys
1st: Perosi Iapela (Anoamaa College, Zone A)
2nd: Donovan Maiava (Church College of Vaiola, Zone C)
3rd: Allan Matulino (Chanel College, Zone B)
Intermediate Boys 
1st: Mefiposeta Sapati (Leulumoega Fou College, Zone D)
2nd: Jirhel Levy (Chanel College, Zone B)
3rd: Iona Solomona (Aleipata College, Zone A)
Senior Boys
1st: EJ Sione (Mataaevave College, Zone C)
2nd: Sammy Garae (Church College of Vaiola, Zone C)
3rd: Dilo Tumua (Leifiifi College, Zone A)
4x100m


Junior Girls
1st: Tuasivi College (Zone C)
2nd: Nu'uausala College (Zone D)
3rd: Leulumoega Fou College (Zone D)
Intermediate Girls
1st: Church College of Pesega (Zone B)
2nd: Falealili College (Zone A)
3rd: A'ana No. 2 College (Zone D)
Senior Girls
1st: Chanel College (Zone B)
2nd: Church College of Pesega (Zone B)
3rd: Leifiifi College (Zone A)
Junior Boys
1st: Avele College (Zone A)
2nd: Aleipata College (Zone A)
3rd: St Joseph's College (Zone B)
Intermediate Boys
1st: St Joseph's College (Zone B)
2nd: Itu o Tane College (Zone C)
3rd: Leulumoega Fou College (Zone D)
Senior Boys
1st: Leifiifi College (Zone A)
2nd: Don Bosco College (Zone C)
3rd: Vaimauga College (Zone A)
4x400m


Junior Girls
1st: Nu'uausala College (Zone D)
2nd: Leulumoega Fou College (Zone D)
3rd: Avele College (Zone A)
Intermediate Girls
1st: Church College of Pesega (Zone B)
2nd: Leulumoega Fou College (Zone D)
3rd: Falealili College (Zone A)
Senior Girls
1st: Chanel College (Zone B)
2nd: Savaii Sisifo College (Zone C)
3rd: Avele College (Zone A)
Junior Boys
1st: Avele College (Zone A)
2nd: Nu'uausala College (Zone D)
3rd: Chanel College (Zone B)
Intermediate Boys 
1st: Itu o Tane College (Zone C)
2nd: St. Joseph's College (Zone B)
3rd: Lepa and Lotofaga College (Zone A)
Senior Boys
1st: Vaimauga College (Zone A)
2nd: Leulumoega Fou College (Zone D)
3rd: Avele College (Zone A)