2019 Toa Games: Gruelling yet growing
By Soli Wilson

•
18 August 2019, 2:00PM
The popularity of the CrossFit movement was on full display yesterday with 16 teams competing in a gruelling all-around fitness competition to mark CrossFit Fatu Toa's fourth year of operations.
Not one dry shirt was seen at Saturday's Toa Games, as teams of four pushed themselves to their limits to try to complete each workout challenge.
Brandon Sefo, the owner of CrossFit Fatu Toa Gym said competitions have been going on from their very first year, but the number of participants has risen sharply.
"We opened on this day, and it's our fourth year of opening and training people in CrossFit and it's about empowering our members and celebrating their progress; celebrating their fitness and finding the fittest most functional team in Samoa basically," he said.
"Definitely the amount of people is growing every year: people are just getting fitter, stronger, faster and all of it and that's all attributed to our programming and also the people's commitment. 
"So, that's the main thing, it's that a lot of people signed up with us, all those people from four years ago are still here getting better, getting fitter, getting stronger and its really good to see a lot of new faces as well, especially this year."
The Toa Games only had five team in its inaugural year, or less than one-third of the size of Saturday's field.
The winning team, Hakuna Masquata, scored an impressive six final points after four rounds. Magnum PR-WH and Squat It Like It's Hot took the second and third spots respectively.
Rosa Siliva, Bobby Carney, Loralei Sa'aga and Kane Meredith, who have been training together for a year, proudly took the centre stage after claiming their prizes.
"It means fellowship and friendship," said Siliva.
Sa'aga said: "It means a lot because a lot of our hard work has paid off, just training in the gym everyday, and even the support from the community seeing everyone come through; it means a lot to us."
Carney said: "We're like a family, it's always good to train together and finally have it all pay off, it's competitive but supportive."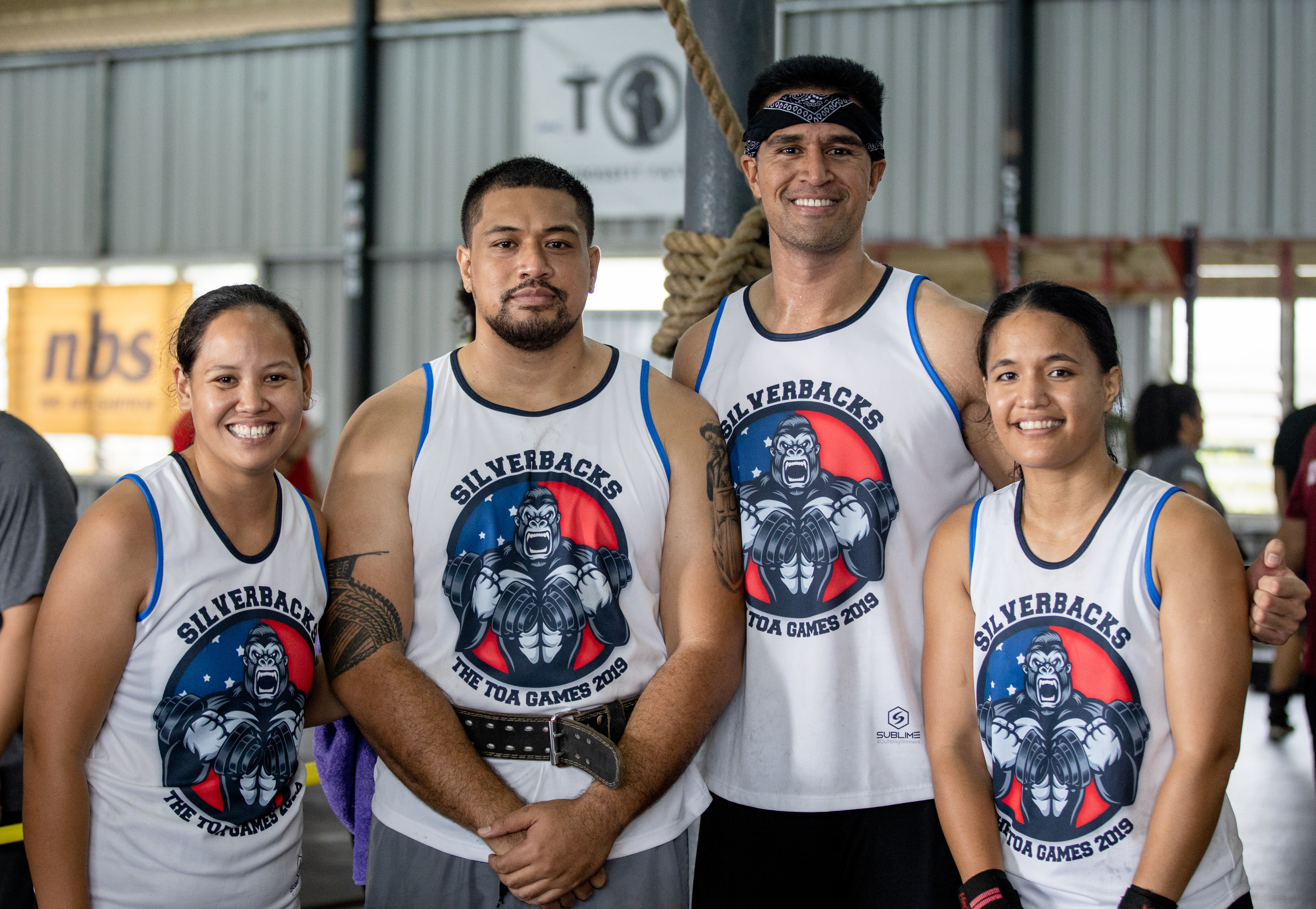 Mr. Sefo attributed the growing numbers of customers each week to a variety of reasons, but partly because every day at the gym promises something different. 
"The fact that it's different every day and that it really challenges them in so many aspects of fitness and physical skills, it's just challenging enough and some movements require the skill that you need to work on it so basically you're never bored," he said. 
"That's how they get started but I think the community really keeps them here, so everyone who joins becomes like family, so it's a big community of fitness and that's what keeps coming here basically."
CrossFit Fatu Toa was established by Mr. Sefo and his siblings.
The gym began in a garage but with a new location on on Mosooi Street, Vaitele Fou, Mr. Sefo said he expects growth to continue. 
"So far it has been really good," he said.
"We're looking forward to have the Toa [Games] grow beyond 16, because it could easily be have been 20 teams but we don't want to grow too fast.
"So looking forward to future Toas, [we are] looking forward to growing every year and seeing a lot of new faces at the gym."
Mr. Sefo thanked all the sponsors who helped Fatu Toa host the competition, saying he is surprised with the "lengths that people are willing to go, just to help us run this thing".
By Soli Wilson

•
18 August 2019, 2:00PM