Rubbish filled riverbank prompts dumping plea
Where can you find a mattress, a washing machine, a children's pram and a truck wheel, all in the same place?
In a dry riverbed in Moamoa, apparently, as the residents of the Goshen Mental Health Services Trust discovered.
What started as a community project to help the neighbourhood children get to school safely quickly became a gross discovery of trash, piled high on the riverbanks behind the Trust's respite residence in Moamoa.
"We saw that children were using this path [next to the residence] to get to school," Chief Executive Officer Naomi Sone Eshragi said.
It was an overgrown shortcut between the property and Alafua, close to Chanel College. Children were carefully navigating a narrow pathway along the Goshen Trust fence and, according to Ms Eshraghi, going as fast as they could.
"We were worried because they run, they never walk," she said. "So we decided lets change this environment for them so they can enjoy their walk."
So the residents, who are on referral from the Mental Health Unit in the Hospital, and living in the Moamoa home while they recover, set out to clear the scrub between the fence and the river for the children.
They will also be able to use the cleared space for planting and activities. 
But they quickly found the riverbank was packed with rubbish, mostly rusted or rotted from its journey downstream.
Ms. Eshraghi said once it was all piled up, they could see some may have come from over the fence in the residence. But the rest is a mystery, which she confidently presumes comes from people throwing rubbish into the river.
"Obviously, people are throwing things in the river, rather than putting it in the bin
"It really makes you wonder, why leave it outside instead of putting in the bin?"
Among the rubbish is a barely recognisable rusted spring mattress, a broken and moulding children's perambulator and a large vehicle wheel, packed with debris and rubbish.
There was also a moulding and rusted washing machine, which could easily be several decades old.
Most of all Ms. Eshraghi wants people to stop dumping rubbish near the waterways. She is too nervous to keep working around the corner of the river's path for fear of what they might find there. 
"I'm surprised, and sort of upset that people find it easier to throw [rubbish] in than to get rid of it in the proper way."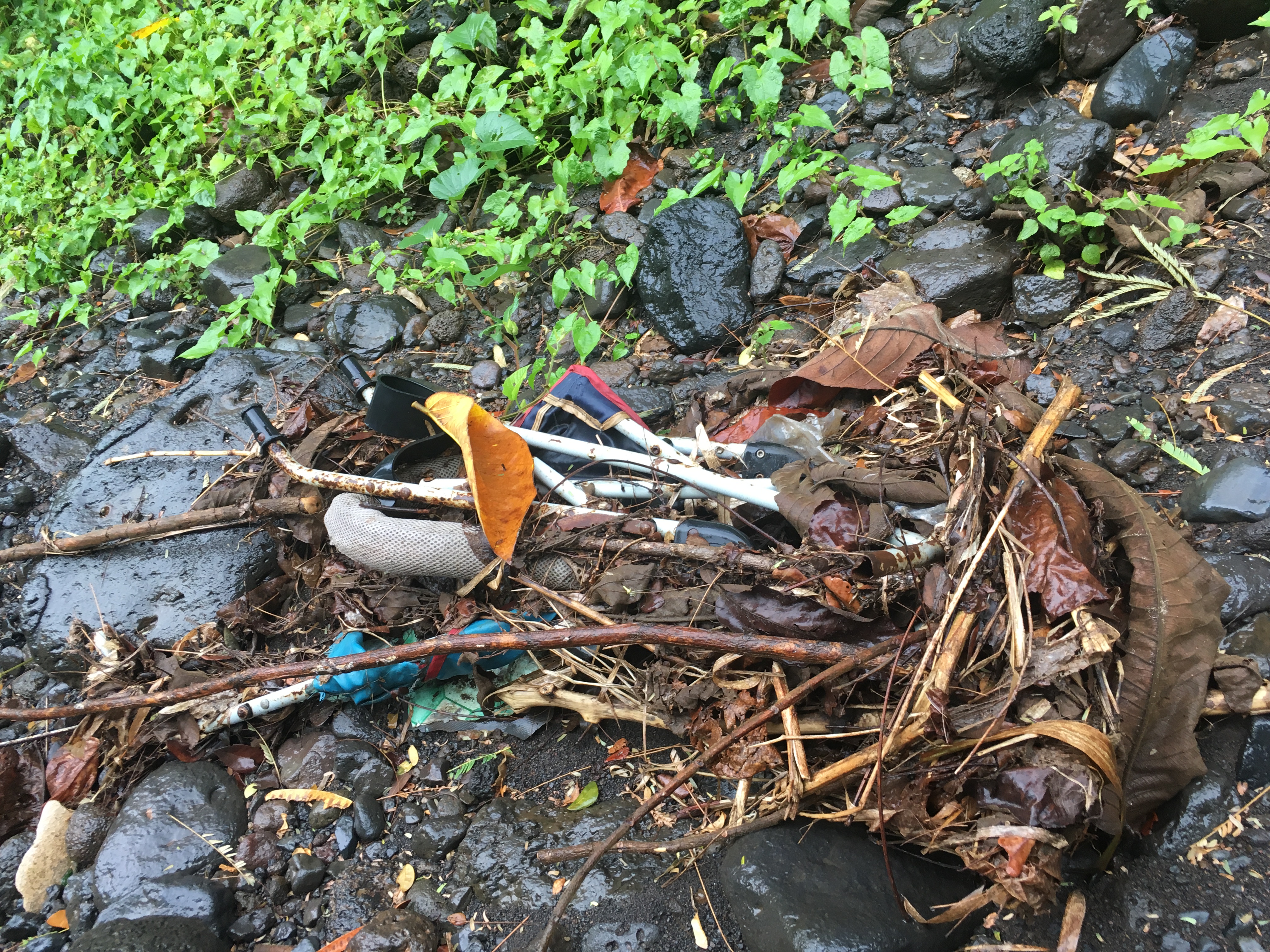 And the organisation cannot afford to remove the rubbish themselves, Ms. Eshraghi believes. The quantity collected needs a truck to come down the newly cleared dirt path and collect it for disposal.
She hopes the Government can help manage the situation, and is yet to ask the rubbish collection services for support.
Before the 16th Pacific Games, Samoa held three city wide clean-ups, two which focused on the urban riverbeds. They collected 19 kilograms of trash from the first clean up alone, and likely near tripled that number by the last event.
And earlier in May, the Team Samoa Paddling team spent a morning cleaning the seawall in Mulinu'u Peninsula, a stretch of just 220 metres.
They collected 140 kilograms, including 200 pieces of polystyrene and 60 plastic drink bottles. 
The types of rubbish ending up in riverbanks and waterways across Upolu are noticeably household rubbish, like disposable utensils and nappies. But some industrial waste is escaping landfill too.
Samoa Waste Recycling Management Association (S.W.R.M.A) President Marina Keil said anything that has steel in it is recyclable, and any one of the three recyclers will buy it.
Ms. Keil's business Waste Management, Pacific Recycle and One Scrap Metal are all in the business of buying and preparing recyclables for export. Interest in taking up their services has grown lately, Ms. Keil observed.
"Compared to last year we (Waste Management) have been seeing more than 15 customers a day bringing in recyclables, compared to the last few years when there were probably three or four people coming in," she said.
"Now that people are aware that Tafaigata is charging, a lot people before they go the landfill they come down to the recycling yard, we take off what is recyclable and the rest that isn't goes to the landfill and that way they pay less."
And the less filling up Tafaigata Landfill the better. 
In 2014, the Asian Development Bank estimated (based on what little data was available) that the municipal solid waste household generation rate is about 60 tons per day, or more than 20,000 tonnes per year. 
"From mid-2012 until the year 2030, assuming nominal growth in population and per capita waste generation, Upolu is therefore expected to generate in excess of 350,000 tons of household waste, which is a significant amount for a small island nation tons per year."
Ms. Keil said from the sounds of it, most of the rubbish behind the Goshen Trust property could have been recycled.
She said over the years, people have become more aware of recycling and are taking up the opportunity to sell broken down goods to recyclers.
Just four years ago, Waste Management was exporting one container a year of used car batteries, tucked into shipments of other goods. Today, they send six containers per year of batteries alone.