Piula Theological College Dux issues challenge
Eteuati Iosia, Piula Theological College's top student for 2019 has issued a challenge for potential graduates of the College.
"For all who want to come Piula: everything gets easier when you rely on God," he told the Samoa Observer.
The top student, son of Faumuina Ioapo Iosia from Lepa and Luatuanuu gave thanks to God, saying the glory all goes back to Him for his guidance.
"The first thing is praise that goes back to God that this chapter has ended successfully, not only for me but also the rest of our graduating year," said Iosia. 
"This would not have been successful without the prayers from our families and the Theological College so it makes me so happy and it's a proud moment for us all, because we never thought we would achieve such things but the praise all goes back to God for that."
The Leififi College ex-student was the Ministry of Health's IT Manager before starting his four-year journey in the Theological College.
Many challenges presented as they continued through Piula but God made every hard thing easy, Iosia said.
Although Theological College graduations are not new to Iosia as he comes from a long line of Congregational Christian Church of Samoa (C.C.C.S.) reverends including a few of his brothers.
"I come from a long line of reverends in the E.F.K.S. denomination, I have brothers who are reverends for the CCCS but now I'm on the other side but with whatever denomination, as long as we grow and serve God," he said.
His wife, Daphne Tyrell, is the daughter of Methodist Church Minister, Reverend Afa Tyrell from Lefaga.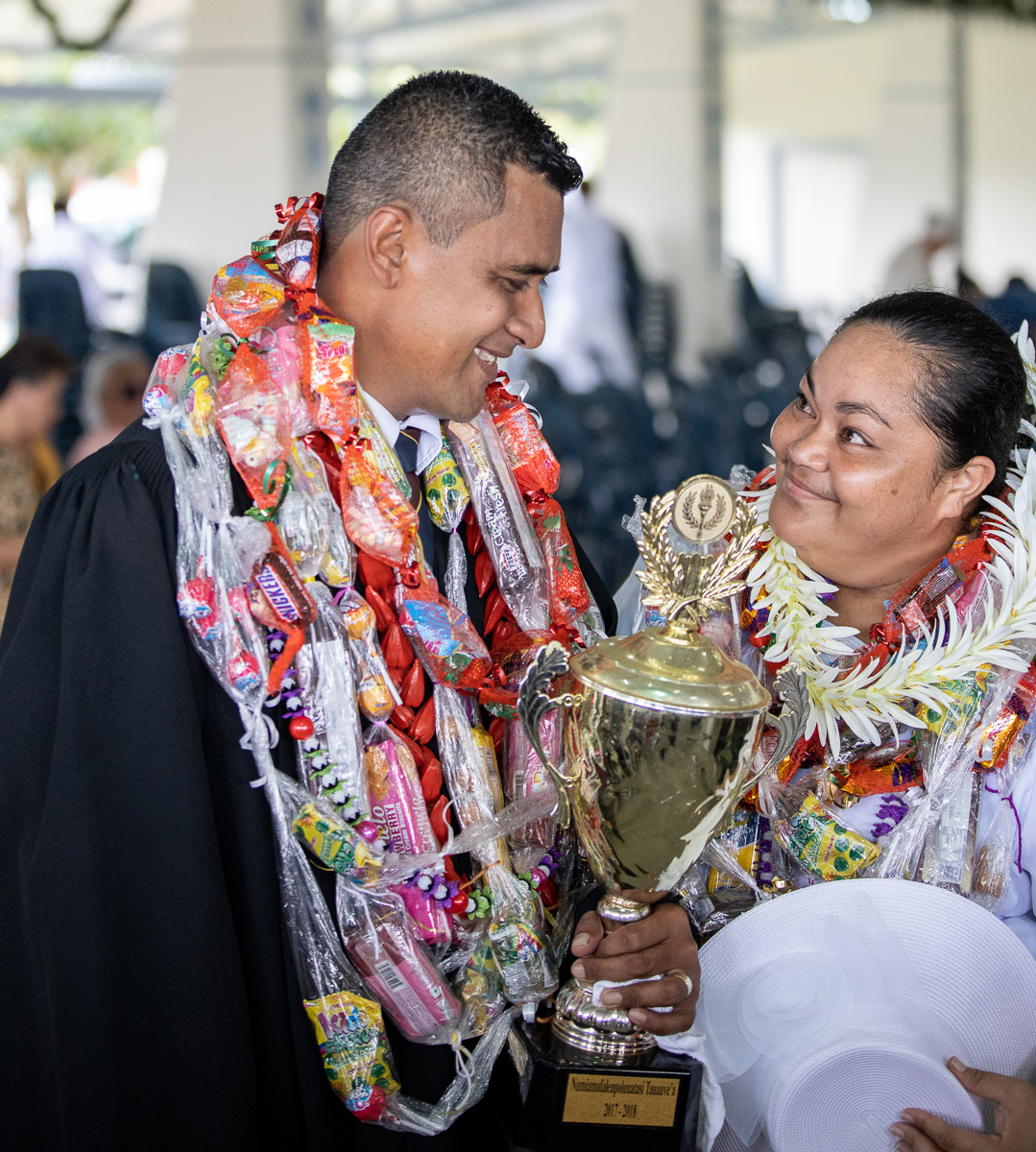 Iosia was presented with the prize for graduating the top in class by Rev. Titimaea Titimaea and Rev. Sione Tamalii plus the College dux prize which was donated by Rev. Afereti Samuelu, Rev. Ieremia Ieremia, Lani Tupu and Vaiui Tupu.
Iosia was one of the nineteen graduates who graduated from the Piula Theological College on Saturday.