A day for celebrating Church, fathers on the golfing green
The Afega E.F.K.S church held a tournament at Faleata Golf course on Saturday to celebrate Father's Day and support fundraising for a new church hall. 
Some 47 teams took part in the competition and took advantage of a chance to exercise, share lunch and breakfast together and take in a sunny Saturday between holes. 
"It's a nice day for the golf players," said Rev. Luapene Nepo
And it was. For the families at the Faleata course, Saturday was also a chance to reflect on the meaning of Father's Day. 
Siu Amosa is a teacher at Afega Primary School and a member of the Church's fundraising committee. But to his three children he is a lot more. 
His youngest, Tafou Amosa, said her father has been a hero in her life.
"I have learnt a lot from my dad," she said. "He has done so much for me, my sister and brother."
"He did everything for his family, and he was a role model for my sister, brother and  me, he always talks about Church and telling us to put God first."
"My father is a humble person and he never gives up on anything to become a success in life and that is what my father taught us when we were young. "

Toalima Amosa said her husband was a humble and caring person and always strove to do his best by his family and the Church. 
"He wants his children to live a better life," she said. 
Tafou Amosa said her favourite memory of her father was when she in primary school and when her dad challenged her and her siblings to follow in his footsteps by studying at Avele College. 
"At the end of the year prize giving in primary my dad cried because I made it to Avele College, where he was educated," she said.
Leuluai Tonu Aiono, a member of the Church's fundraising committee, said the tournament was a chance to support God's work through raising funds for a new church hall.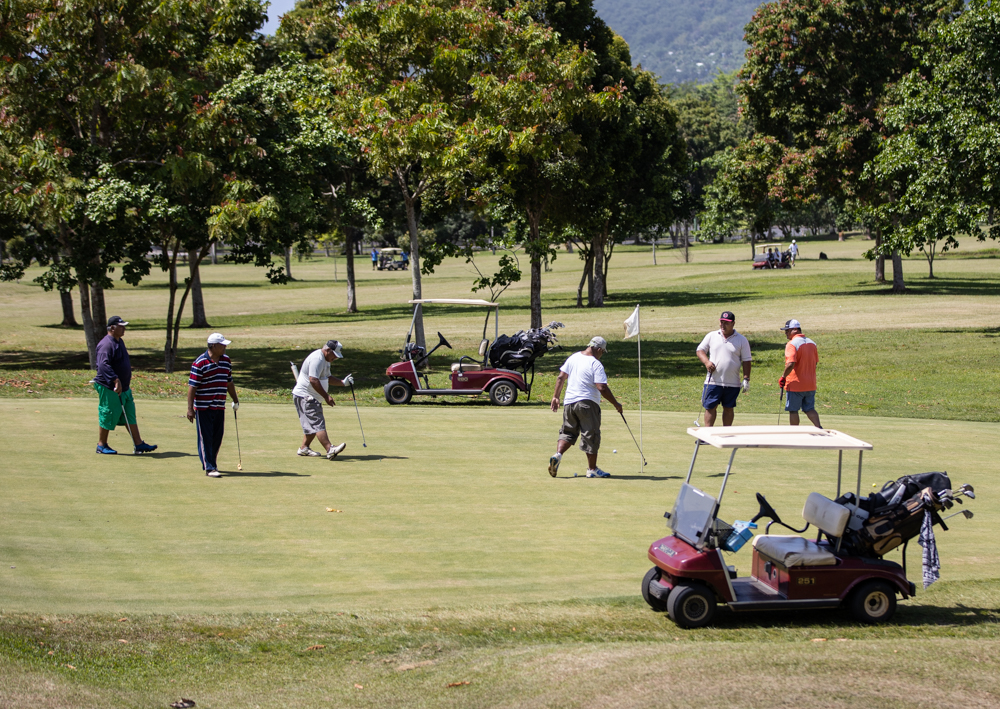 Joe Leavai was hitting the links on Saturday and said the great weather and family friendly atmosphere made for the perfect lead-up to the long weekend.
"I am a friend of the Rev. Luapene Nepo but I'm here to support their fundraising" he said.
Rev. Luapene  Nepo thanked the Church's committee, participating and people of Afega who supported the Church's fundraising drive.
Each team playing in the tournament contributed a donation of $300 tala in fees.