Samoa acknowledges role of Chinese coaches
The Samoa Association of Sports and National Olympic Committee (S.A.S.N.O.C.) has thanked the Chinese coaches who played a critical role in ensuring Team Samoa finished in the top three countries during the XVI Pacific Games.
At a celebratory dinner held at Football Federation Samoa's VIP room on Wednesday, the Committee's Secretary General, Pauga Talalelei Pauga, thanked the 17 Chinese coaches who had worked with the Samoan team.
They were also presented gifts as a token of appreciation.
"On behalf of our president, Patrick, and also the members of S.A.S.N.O.C. and all of our affiliated Samoan sports, it is an opportunity for us to say thank you for everything you have done for Samoan sport."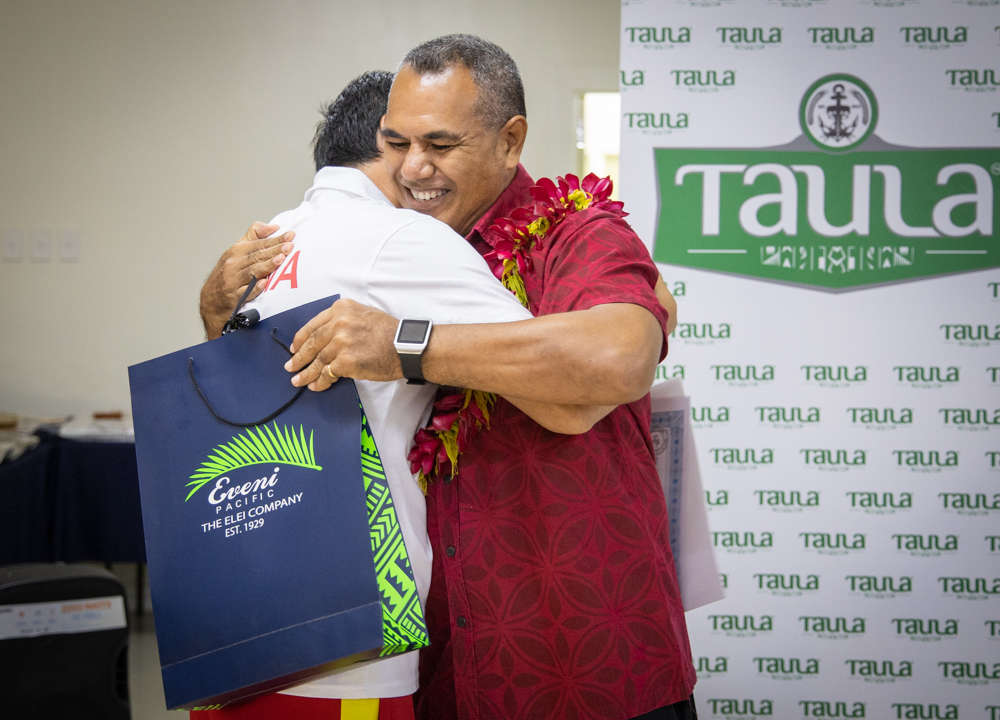 Pauga went further and said he hoped the relationship with the coaches would continue and ultimately help Samoa achieve sporting dominance in the region.
"We want to continue, if we can, this long-term relationship to train and keep on with the preparation of our athletes. And our hope is to become number one in the Pacific to beat Australia and New Zealand and all the Pacific nations.
"Number two: we want to win more gold medals in the Commonwealth and, number three: we want to win medals and gold medals in the Olympics and be able to participate in World Games, that's our request and pretty sure you guys can figure something out for us."
The speech outlined the growth in cooperation between Chinese and Samoan sport over more than a decade.
"I remember in 2007, you started this campaign when you brought more than 30 coaches to Samoa and trained our athletes here for four months and, in 2015, you also brought more coaches to train our youth for Commonwealth Games. 
"And in 2019 you made a magnificent move by taking more than 260 athletes and coaches to China for four months."
Pauga acknowledged that the most recent campaign for Samoa's athletes required considerable effort and resources from China Sports International Company Ltd.
"It wasn't an easy task, there are a lot of sacrifices, dedications and commitments and also lots of issues as well but the last two weeks we witnessed the success of that campaign," he said.
Pauga relayed the S.A.S.N.O.C.'s goals for the upcoming Commonwealth Games, Olympics, as well as the Sports World Games to the Chinese contingent. 
China Sports International Company Ltd General Manager, Mr. Liu Guoguang, responded that it was their honour to be able to help Samoa achieve what they had done in the 2019 Pacific Games.
"I feel honoured that this time our Chinese coaches come again to Samoa to carry out the project [...of] coaches' technical assistance for the 2019 Pacific Games," he said. 
"And for that we have three parts, the first part is the athletic training, the second is chef training, third part is the equipment.
"The Secretary General has mentioned the good results we have achieved in these Games, I think it is a symbol of our efforts, not only the Chinese coaches but also Samoa coaches and athletes; it is the effort of both sides."
Mr. Liu belives it is just the beginning and believes there will be further cooperation between the two bodies but, in regards to the S.A.S.N.O.C. Secretary General's list of goals, he responded with: "Rome was not built in one day.
"We still need more athletes not only from Chinese side but also from Samoa side so as the Chinese part; we will try our best and spend our efforts to help you."