Samoa beaten by faster team
Samoa's sprinters couldn't manage the gold medal they wanted at the Pacific Games this week, after coming second to Fiji in the men's 4x100 metre relay on Friday night at Apia Park.
Shu Peng Ah Vui, Kelvin Masoe, Kolone Alefosio and Jeremy Dodson won silver for their time of 40.26 seconds, just eight hundredths of a second behind the Fijians.
Ah Vui, a 21-year-old student from Ululoloa and Siusega had the all-important job of starting the relay off for Samoa.
"At first I was so nervous, I even asked my teammates if they would be ok if I left, I didn't want to run the relay," he said.
But his team told him to stay with it, and just pass the baton on.
"When the starter said set, I was thinking about a lot of stuff, like what should I do next.
"Then the gun went bang and I had to give it my all. Because I'm the starter, if I don't do my best everyone's gonna be disappointed in me."
But Ah Vui certainly did that, setting up Samoa's run very well indeed, which was all the more impressive as it was his first event of these Pacific Games.
Kelvin Masoe (20) of Satuiatua, Savai'i ran the next leg, and drew a huge roar from the crowd as he flew down the far side of the track.
The Pacific Games long jump champion said the crowd really pushed him on.
"I put all my power to continuing the relay."
He thanked the country for their support throughout the Games.
"Especially my parents and my family."
Kolone Alefosio, 19, from Vaoala was the third runner, and he saw Masoe's run and knew he had to equal or better it for the team to achieve what they wanted.
"It was our best shot, but the Fijian team was strong too so it was a really tough race," he said.
"It's a great achievement for us, and we're so happy with our performance today."
Closer Jeremy Dodson received the baton at almost the same time as his Fijian rival Banuve Tabakaucoro for the home straight.
"That's my best part, maximum velocity flying down at the end," he said.
"I knew when I got the baton it was over, but apparently not.
"Age is getting the best of me, and I'm not the same Jeremy I used to be back then."
The 31-year-old said it's something he's beginning to realise, although not something he's ready to accept yet.
He said he was happy to be close when he received the baton, against an awesome team in Fiji.
"Their country loves them for that, and my country loves me either way. I guess at the end of the day we're entertainers, and hopefully the crowd enjoyed every bit of it.
"I'm disappointed, but I'm very grateful that I'm part of this country."
Dodson said he has loved being here for the last couple of weeks.
"Every time I visit here, it gives me more reason why I should come back, and move a little bit closer to help out.
"Hopefully something reveals itself over the upcoming weeks, upcoming months, upcoming years, who knows what'll happen."
Tabakaucoro said a couple of his team hadn't stood on the podium before.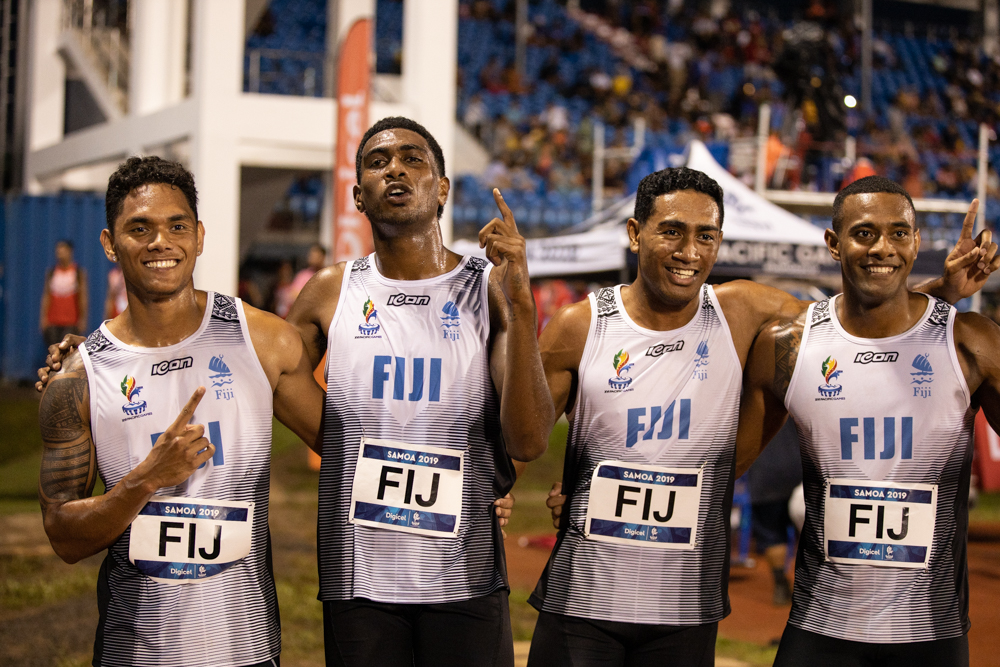 "I wanted to give them a chance to get up here today.
"We didn't want to come in second, we didn't want to come in third, I wanted to put them in the middle."
He said he was glad to win three golds over the week; in 100 metres, 200 metres and 4x100 relay.
"I just came out here and performed, the three medals is a bonus.
"It just shows that the training is working, and our development programme in Fiji is also working."