Samoa takes silver in men's Pacific Games touch rugby
Just two points separated home team Samoa against defending champions Papua New Guinea in the gold medal fixture of the touch rugby Pacific Games Competition.
P.N.G took it away with a 12-11 win, with Samoa touching down frequently in the final minutes of the game closing the once large gap between them.
But they couldn't overtake them towards the end and were still behind when the horn blew.
"Papua New Guinea were in front for most of the game, we drew it back to level it up at half time, unfortunately we let them get in front again," said Coach Peter Shefford.
"There was plenty of heart, plenty of skill out there, and we scored plenty so whilst I wasn't entirely happy with our attack I can't complain about 11 touchdowns."
The six touchdowns in the first half came from Arran Rogers, Pelenise Lima, Samoaautasi Tolovaa, Raymond Schuster, and two from Peter Togagae.
Tolovaa, Togagae and Peter Hazelman kept the fight up in the second half with two touchdowns each and one to Hazelman.
Papua New Guinea also scored six points in the first half and kept it up in the second with another six.
Shefford said the team let their opponents in with some "fundamental errors."
"We let some in we should have never let in, there were some fundamental errors we made in the first half which allowed them to keep in the game with us. 
"I hope those players who made those errors take that away and think about it.
"Some boys may be happy with silver because it is their first experience, others were in P.N.G [in 2015] and this was a chance at redemption," he said.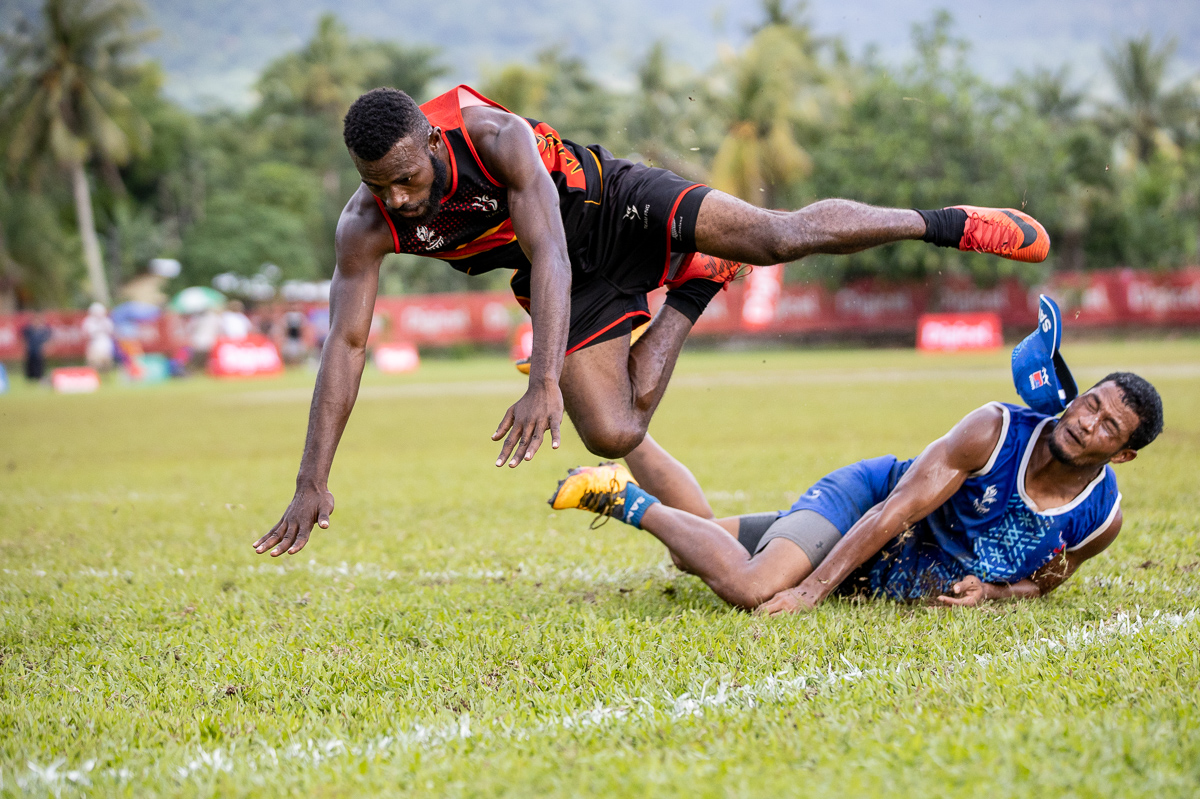 Captain Michael Rasmussen, back on the pitch for his second game after being injured on the first day said it felt awesome to be on the field.
"I thought my tournament was over on the first day so thank God our physios were there back at camp and they got me better."
But he is not satisfied with silver, even against the defending winners from 2015's Pacific Games.
"I was in the squad four years ago and it's not a good feeling when they take it away from you," he said.
"We knew it was going to be a hard-fought battle, but we didn't think they would take it again from us.
But he said even making it to the gold medal match showed they learned from the mistakes of previous matches, and were ready to meet Papua New Guinea on their level.
"We have just got to get better," he said. "They weren't necessarily better, they just wanted it more."
"They played 40 minutes of touch, we probably played 35 minutes and that five minute lapse hurt us."
The mixed division begins Thursday morning at 8:30am, with Samoa against Fiji. They play the Solomon Islands at 12:40pm and Tonga and 5:40pm.
The Samoa men's touch team is: Michael Rasmussen, Arran Rogers, Darren Aofia, George Komiti, Pelnise Lima, Tasipale Cordtz, Eteuati Togiatomai, Jedidiah Fagaua, Gregory Hazelman, Samoaautasi Tolovaa, Lafaele Leuta-Malo, Raymond Schster, Peter Hazelman and Peter Togagae.