Manu Sevens end day with draw against Tonga
The Marist grounds at Lotopa erupted with cheers from a packed crowd who were on the edge of their seats watching a physical match between the Manu Samoa Sevens and Tonga in the XVI Pacific Games.
The two sides drew 12 all at full time to end the first day of competition at Marist Lotopa.
Tonga scored the first try five minutes into the first half taking a five-pointer lead.
Manu Samoa hit back just minutes later with a try from John Vaili closing the points at 5 all at half time.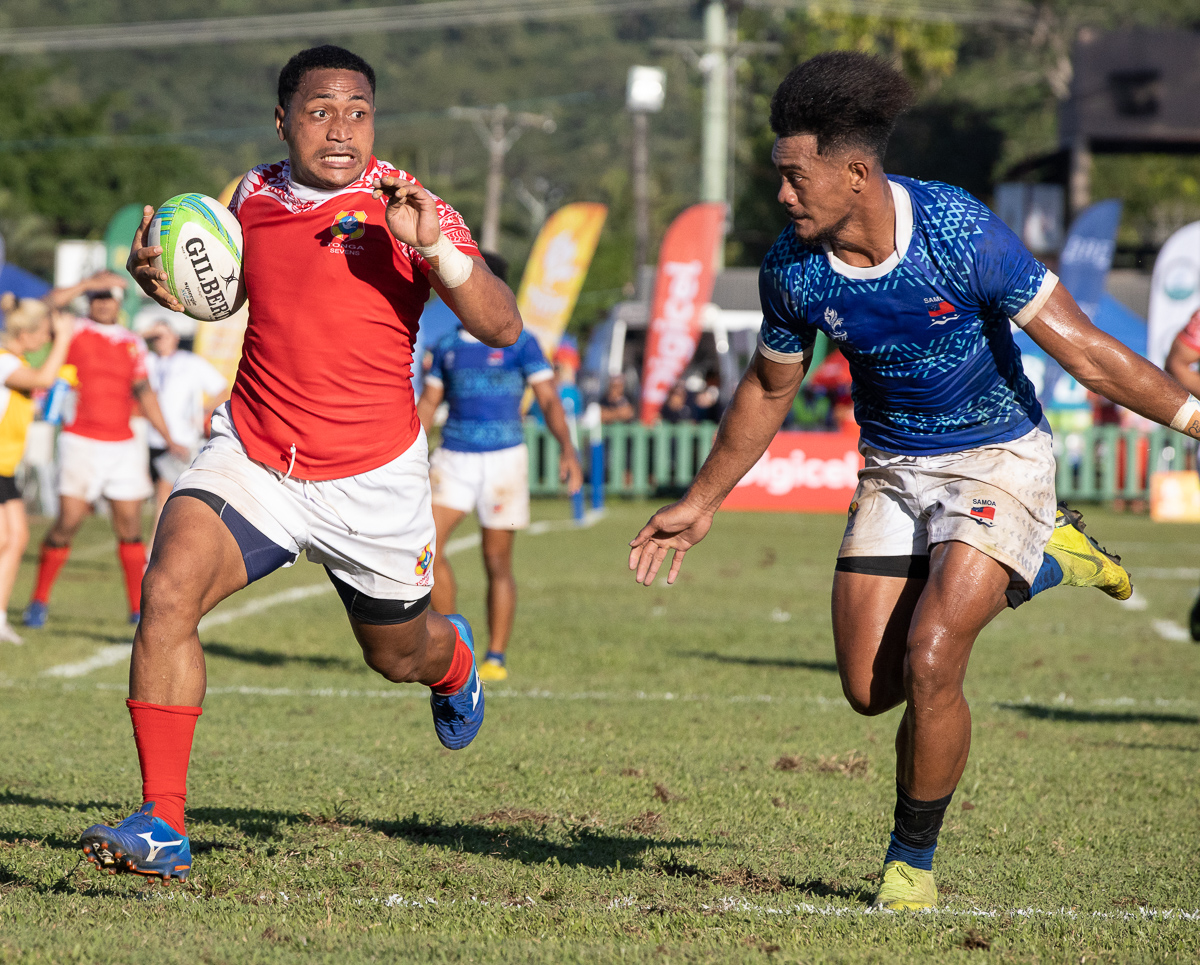 Samoa scored the first try in the second half, and a successful conversion took the Manus points up securing a 7 points lead. 
But this did not stop Tonga from hammering a strong Manu defense line. A try saving tackle by Joe Perez denied the Tonga team a try at the corner. 
However, the Tongans were too determined to give up, finally breaking the Manu's defense line to secure a converted try, levelling the points, 12 apiece at fulltime.
The Manu Samoa 7s team has qualified for the quarterfinals but will play their last pool match first. 
Earlier, the Manu Samoa thrashed Solomon Islands, 36-5. The first try was scored by Siaosi Asofolau just minutes into the first half with a successful conversion by Captain Tila Mealoi taking their lead to 7-0. 
Second converted try was by Joe Perez, with Tofatu Solia taking the teams points up to 19-0 at half time.
John Vaili scored two tries both successfully converted, with final score sealing the Manus points to 36 was by Paulo Scanlan. 
Solomon Island's Felix Gau Solomon scored their only try in the final play. 
Head Coach, Sir Gordon Tietjens, said he is happy with the outcome of the second match compared to their first match where they made quite a lot of mistakes. 
"Our second game we did very well. We hit some holes, we ran a lot of pitches in this game, which set a lot difference," he said.
Tietjens predicted a tough match against Tonga.
"Tonga will be particularly tough," he said. "They are a proud nation, they are the team to beat with Samoa going back to qualifying for the Olympics, and they have been in the World Series this year for four tournaments.
"So we are quite aware of them, they were in Hong Kong as well. And also the ground being narrow as well, they'll love the contact.
"There will always be improvement no matter our place in the game, set play, individually, we always look to get better, there are a lot of young boys in this team and certainly look to improve in every game and be the best they can be really. 
"When you play against big teams that have been in the World Series, you are playing a game that's a lot quicker than experienced here in Samoa, so we always try to lift our game up to that pace, and stay with them physically."       
Samoa won their first game against American Samoa, 19-0, with Laaloi Leilua scoring twice and Tomasi Alosio contributing their third try.