Samoa beach volleyball succumbs to Tahiti, out of medal contention
By Soli Wilson

•
12 July 2019, 9:00AM
A large crowd gathered to witness the beach volleyball quarter finals between Samoa and Tahiti on Thursday afternoon at the Apia Waterfront.
The game proceeded between Neval Stowers and Eneliko Tui of Samoa and Terau Ena and Jeremy Paraue of Tahiti was tough and intense.
Due to the defeat of the national team, Samoa no longer has a team in the medal contentions for beach volleyball. The defeat comes two days after Samoa defeated Tahiti on their first game on Monday.
Samoa led the first set until Tahiti caught up on the final points, putting them in the lead at the end with a hard fought 25-23.
Despite the national team challenging the Tahitians with powerful spiking, the French territory went on to win in straight sets against Samoa 21-18 in the second set.
National Team Coach Aaron Alsop said a lot of people should be proud of not only the boys, but the beach volleyball program as a whole, including volunteer coaches, managers and volunteers who have done a great job.
"Considering the absolute lack of resources that this sport has, in the achievements that they've been out to do in the last couple of months has been absolutely phenomenal.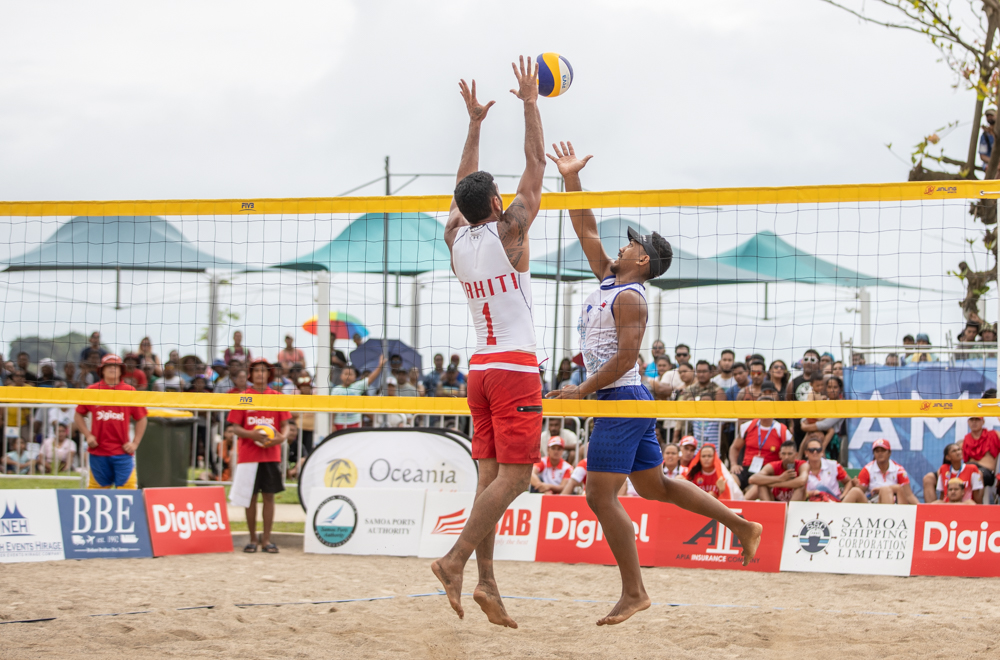 "They've been training at a dirt patch for 6 months and unfortunately when you train in those conditions, the little habits are created through not feeling comfortable to dive on the sand or move on the court like we want them to do.
"But with this level of competition, it affects the way that they have trained and it's been wonderful to see the support for them, it's been incredible to see the community come out and get behind them," he said.
Alsop said it was obvious to see the pressures of the competition and playing at home on the boys, during the match.
"We've come up against a team that we felt was one of the top two teams of the tournament and unfortunately today, I think it's probably obvious to see a little bit of pressures against us."
Although he said these things will build them to be stronger as a team, both the men and women.
"We're very proud of their efforts and I think everyone should be proud of the volunteer coaches and managers that have been supporting the players so it's been remarkable," he said.
"The big thanks needs to go out also to F.I.V.B. who provided some support for a month to do some coaching with the players and we just hope now that the sport is taken a little bit more seriously.
"Because their results should be recognised and it's nice that we've got these facilities here, but getting them two days before the games doesn't help us prepare at all," he added.
By Soli Wilson

•
12 July 2019, 9:00AM