Saipipi Church farewell spiritual parents
People say it is always easy to say hello, but it's hard to say goodbye.
Such sentiment was expressed during a special service which was held at the Congregational Christian Church of Saipipi, on Sunday.
It was an emotional day for everyone in the village, especially Reverend Elder Kaleve Simona Leifi, who stood at the podium preaching for the last time to the village and people they considered as their "home" for the past 30 years.
Reverend Elder Kaleve Simona Leifi was among the eleven retiring church ministers honoured at the pensioners' service during the C.C.C.S's annual conference at Malua this year.
He and his wife Tausunu Leifi have been serving the parish at Saipipi Savai'i for the past 30 years.
It was a tough day for all them and Reverend Elder Leifi couldn't hold back his tears during his final sermon on Sunday.
However, he is retiring with a great sense of satisfaction that he had done what the Lord called him to do at Saipipi.
Looking back to when they first started serving at Saipipi, Reverend Elder Leifi shared mixed emotions reflecting back on their early days in the ministry.
He admitted that the beginnings are always tough and challenging. However, he is a true believer that "God will never place you in a place where you will not succeed.
"Wherever He will place you, He will surely carry you through it."
Thirty years, said Reverend Elder Leifi, is such a long time, filled with so many memories.
"So many things happened during our time here. As usual, there are good and bad times.
"But all I can say is that I am grateful for all the years we've spent here.
"We've come a long way… not just me and my wife but the congregation as well. We've all grown from strength to strength and no words can explain the bond we shared.
"Something that we will forever carry in our hearts and minds.
"I am happy and confident that I've achieved what God had wanted me to do during my time in Saipipi.
"And I could not have done it without the Lord. He has been good and has been there all along."
One of the things Reverend Elder Leifi is content about is the commitment of the people of the congregation.
"The number of people converting to other denominations has always been an issue but what amazes me is that, even though some people left, that didn't decrease the amount of offerings given by those who remained."
In saying that, Reverend Elder Leifi made reference to the building of their church building, which is one of the biggest church buildings we have in Savaii.
The C.C.C.S in Saipipi also has a new multipurpose hall and well equipped home for the next church minister.
Saipipi's Sunday school is also one of the biggest Sunday Schools for their pulega in numbers.
"I know and believe that all these were made possible because of the faith you (congregation) have in God.
"You've shown true faith by giving your all for the Lord's ministry even we the little that you have.
"I understand that not all family are the same, some families are better off than others. But when it comes to church offerings and contributions, you guys give it all for the Lord."
Said Reverend Elder Leifi, one of the things that assures him that he had achieved his goals is when he meets up with the children he nurtured, who are now working in offices not only in Samoa but overseas.
"Nothing excites me more than seeing the children I once taught and nurtured in God's ministry come back home for a visit and knowing that they are excelling in all different walks of life.
"And I give credit to God for everything. He provided us with everything and made everything possible for us.
"We can never than Him enough."
He used the opportunity to thank the people of the church in Saipipi for everything.
He fought back tears reminiscing on the elders who are no longer with them on their final days at Saipipi.
He expressed his gratitude for taking care of them, loving them as their own, accepting their flaws in the ministry and most of all, for supporting them all along.
"Saipipi will always be home for me, my wife and my children. We will never forget all the times we spent in Saipipi and all the love shown towards us.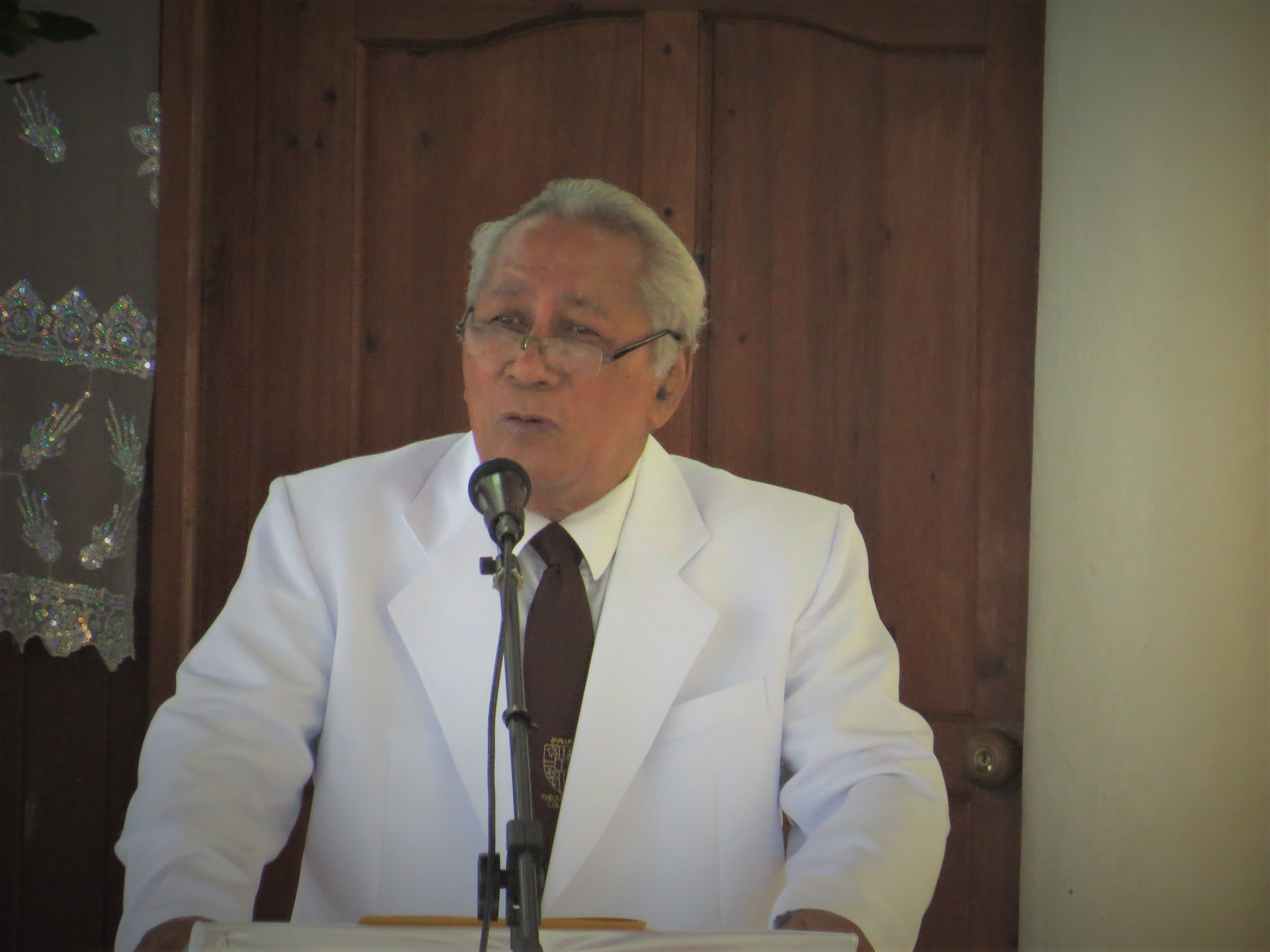 "We will continue to pray for our village and will continue to remember everyone."
Tofa Rosa, a woman deacon at the C.C.C.S in Saipipi spoke on behalf of the congregation to thank Reverend Elder Leifi for the friendship they had over the past thirty years.
She also apologised on behalf of the congregation for all the erred of yesterday and wished them well on their retirement.
Reverend Elder Kaleve Simona Leifi is from the village of Lalomanu Aleipata.
His wife Tausunu is from Nu'usuatia Safata and have been married for 38 years.
They entered the Malua Theological College in 1985 and the C.C.C.S at Saipipi called them to serve at Saipipi in 1989 during their final year at Theological College.
They are leaving behind a congregation made up of 50 families from the 20 they started with.
Reverend Elder Leifi was educated at Lalomanu Primary School, Samoa College, Teachers Training College and at the U.S.P Fiji.
He was a school principal for the Aleipata District school where he met his wife Tausunu who was a nurse working at the Lalomanu district hospital at the time.
He has been a Reverend Elder (Faifeau Toeaina) for more than 10 years.
Families and friends of Reverend Elder Kaleve and  wife Tausunu from Samoa and abroad joined members of the congregation, as well as the Saipipi community from overseas to bid farewell to Reverend Kaleve and Tausunu who are now enjoying their well-deserved retirement.