Samoa Ports Authority celebrates milestone
By Soli Wilson

•
07 July 2019, 3:00PM
Samoa Ports Authority hosted a reception on Friday night to celebrate their 20th birthday.
S.P.A. Board of Directors Chairman, Tuiloma Neroni Slade, delivered the opening remarks announcing that the organization has been profitable in recent years. 
"We are rather proud to say that for the last three years, S.P.A. has produced good profit and has been able to honour its responsibilities of contributions the Government. I want to say that as the closure of our financial year and a few days ago in June; we seem to be heading in a record profitability. 
"Moreover, I like to share with you that this is an organization that is probably unique that is entirely debt free. So we are looking at an organization that is able to produce these result," he revealed.
In 1998, The Samoa Ports Authority Act was passed, and with the appointment of the General Manager on the 1st May 1999 the Authority began preparations for commencement of operations on 1st July 1999.
S.P.A. was previously under the Ministry of Works, Infrastructure and Transport.
Samoa Ports Authority was established to operate as a self-funding, commercial viable organization required to ensure safety of ports and maritime operations, in providing effective and efficient services.
Earlier this year in February, the Authority presented a record dividend of $3.4 million to the Government.
Samoa Ports Authority chairman, Tuiloma Neroni Slade, handed over a $3,492,691 dividend cheque to Prime Minister Tuilaepa Dr. Sa'ilele Malielegaoi.
The organization currently employs 108 employees with six executive management managers under the guidance of General Manager So'oalo Kuresa So'oalo, and seven board of directors.
Tuiloma is confident that the Authority is in good hands.
"We are being operated by a fairly small staff of just over a hundred people but under management that has the entire confidence of the board of directors and we're very happy to commend the efforts today to you Mr. Minister and I think we can continue to look forward to a great deal of productivity for the future," he said.
Five employees were honoured during the reception through awards for their 20 long years of service to the Authority.
These include, Leiataua Misimoa Leiataua Filipo from the Finance Division, Tuimaseve Jerry Epa from Operations Division, Fuiavailiili Tuvao Palepua from Finance Division, Sa'u Peter Sione from Maritime Division and Fa'amoe Lepule Siaki, captain in the Maritime Division.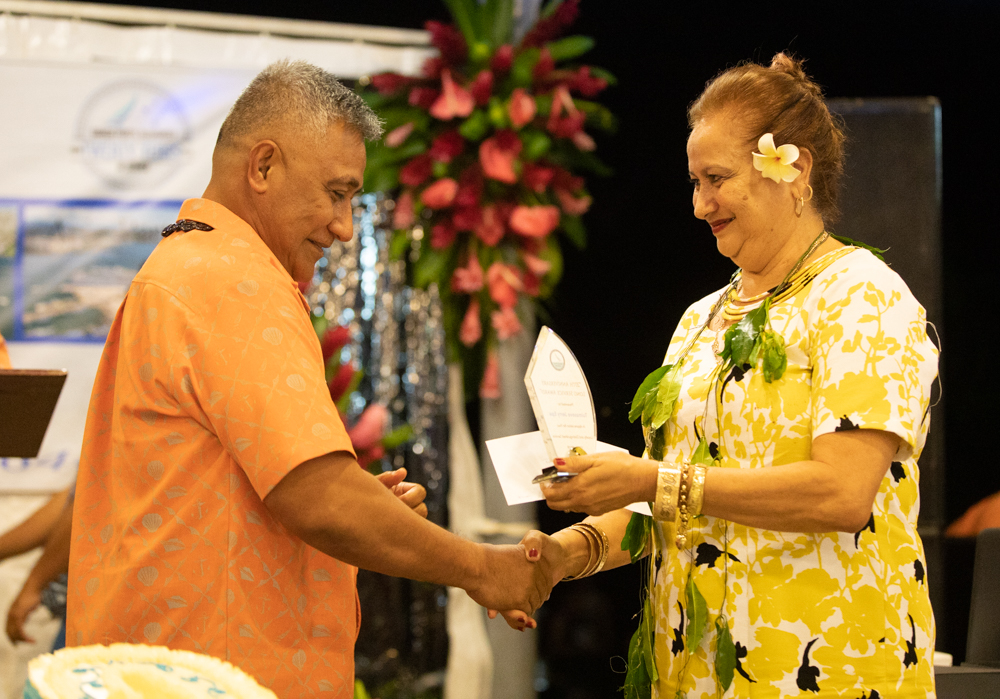 Tuiloma highlighted that the future of the port includes looking at practical ways to adopt green growth as smart port growth.
"This is a port also that needs to look to the future in particular responsibility to safe practical actions to reduce carbon footprint so we are undertaking considerable initiatives to ensure that we change over to renewable energy to ensure that we adopt green growth and smart port growth in very practical ways," he said.
Also as part of their celebrations, the organization also donated a load of items and food to the home of the elderly at Mapuifagalele, plus a $1000 cheque.
Sister Alosia said they were grateful for the Authority's generous donation and added that the funding will go a long way in assisting the facility. 
"The donation is very important. Because these are the things that are needed and used to care for the elderly and all of us here. We pray that the Lord blesses those who have brought these over and contributed into the donation.
"Help is always needed as we live on charity, without this we cannot manage," she said.
Sister Alosia said the money will be very helpful to pay their electricity and water bills as well as the wages of the employees.
By Soli Wilson

•
07 July 2019, 3:00PM