Use your remaining time wisely — P.M. Tuilaepa to athletes
Prime Minister Tuilaepa Dr. Sa'ilele Malielegaoi has encouraged the Team Samoa athletes to spend the last few days before the Pacific Games to step up their preparations before competition starts next week.
He met for the first time with the Team Samoa athletes along with coaches during a luncheon at Gymn No. 3 Tuana'imato on Saturday afternoon, where he advised the teams on making better use of their remaining time.
"For these remaining seven days or so, there is still a lot of time left to step up your efforts so that you can further improve, do not sit around.
"For those who recently got gold medals, try again to beat that because we don't know the level of competition the other countries have prepared to come with," he said.
The Prime Minister advised the athletes against looking at "other things" apart from what should be priority, which is a gold medal for Samoa.
"The word that I have received is that the preparation of every sport is going good, and you should remember that some efforts can be disqualified on the week of the Games, due to the lack of sleep at night from seeking out other things from other athletes from overseas, leave that for last but give your priority to getting a gold medal before you can go ahead and do whatever you want," he said.
The athletes were also reminded by the Prime Minister to not let anything distract them from their preparations, and he asked the coaches to monitor the athletes and restrict their use of mobile phones. 
"That's why sometimes when our rugby games are going good and gets messed up again, its because some of them spend all night talking on the phone. 
"So for you coaches, collect all these phones by bedtime at 9.00pm so they can sleep, especially when the next day is games, restrict the uses of phones and to look out for our athletes."
Tuilaepa told the coaches that it is time to open their eyes including those in the "front, back and sides".
"Because you never know what happens, it's easy to open the windows to jump out and go see the Papua New Guineans. 
"Do not look at the Papua New Guineans too much, but finish the Games properly and get a gold medal before you do whatever, it's up to you.
"But for our team there should not be anything else to distract you from our preparations so we can reach our goals," added Tuilaepa.
Team Samoa totals 645 including coaches and management and the 502 athletes who will be competing in 26 sports altogether.
"This is a big team, compared to other games that were previously hosted in Samoa in 1983 and 2007, and it is an opportunity that should be taken up by everybody since it is hosted in our country.
"This is the time to take up any sport you want, no matter how old or young," said the Prime Minister. 
Also present at the gathering was a team of coaches from China, whom Tuilaepa acknowledged along with the general assistance of the Republic's People of China to Samoa's Miracle Games.
"Let us try and make a special mention of our team of coaches from China. They are a very devoted team of coaches, who are especially here to help us with our quest for the Pacific Games, to get more gold medals for our country and we wish you the best and we hope you enjoy your stay in Samoa," he said.
The Prime Minister then acknowledged the support of other countries as well as China for their support to the Games. 
"There special assistance is about $20 million tala for all the sports, including building the facilities and sport fields we now have, as well as those who traveled to China for training as well as the chefs, for the convenience of catering food for the people of the Pacific who will be coming."
The last time Samoa hosted the Pacific Games in 2007 it came third, which is its highest ranking since it started competing in the Games. The country has been placed fifth twice in a row in the last two Pacific Games that were held in 2011 in New Caledonia, and 2015 in Papua New Guinea.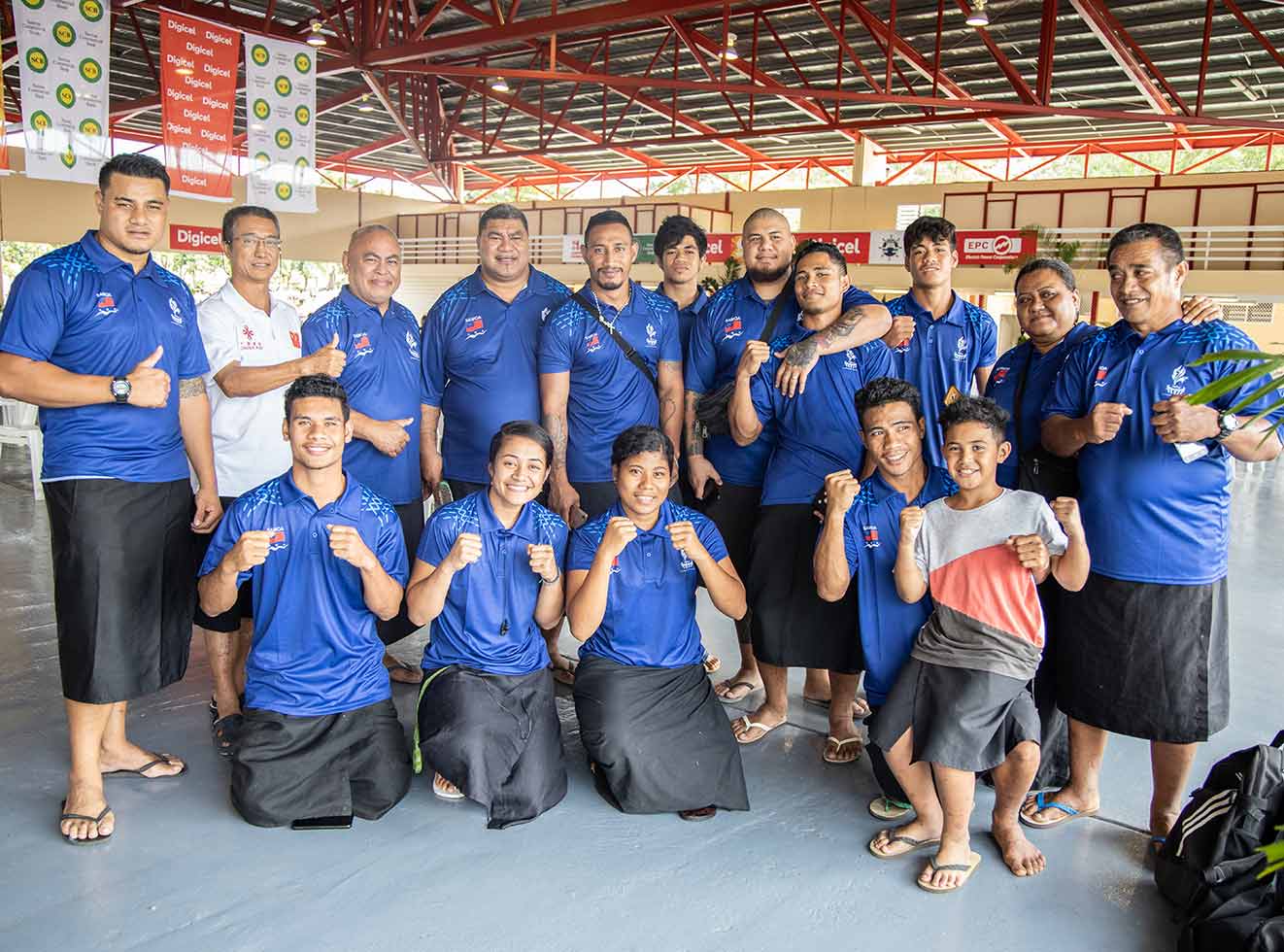 The Prime Minister said with the country now playing host, they have more athletes which increases the potential of Samoa winning more gold medals. 
"Now that we have a lot more athletes, we should try and get a better placing and remember that placings are based on the number of gold medals won.
"So let us try for the best things, because it brings great things to our country, our families, especially you who competed; more opportunities will be available for you to increase your knowledge and skills overseas," he said. 
During his speech he also acknowledged the caterers who provided food at the event on Saturday, wishing them the best for their preparations during the Games.
"For this evening, I would like to acknowledge our chefs. Your preparations have just reached 80 per cent, with some bland and too smoky, so try to add the 20 per cent so that it can be 100 per cent. 
"With today, the food lines are still on and it's just us, but add on those who are yet to arrive — you'll see something similar to the car queues that line up to Mulinu'u.
"For the chefs, wishing you all the best, but now you have seen started to see the beginning and figure out what could happen if you are not careful," he said.