Samoan Kung Fu gets support
The sport of Kung Fu-Wushu in Samoa received a dual-boost last week with the Chinese national team coach, Su Yongwei, coming to deliver training sessions, as well as oversee the donation of gear from the Oceania Kung Fu-Wushu Federation.
Samoa Kung Fu-Wushu President, Travis Lamb, said last week exemplified the support the Oceania Body has provided his organisation since it was formed last year.
"We've had one Australian coach come out earlier in the year, but this is now the Chinese national coaches, so the level is very high," he said.
"They're here to promote wushu in the Pacific, they just came from Papua New Guinea where they were teaching there.
"There's certainly a big push to promote it to as many Pacific Island countries as possible, because it's a sport that our people do well in."
Oceania Kung Fu-Wushu Federation President Walt Missingham, who has been involved in martial arts for over 40 years, said there has been rapid expansion in the Pacific.
"We've got a big group in Papua New Guinea and Fiji, we've got American Samoa on board now, Vanuatu.
"It's a growing sport, we're going to be integrating it into some of the school training programmes."
He said one of the goals they have for the region is an expanded Oceania event.
"We are in the throes of organising state of the art arena facilities for Samoa and Fiji, world championship level."
Lamb said there are professional opportunities within the sport.
"What is quite obvious is that there's pathways within kung fu to go to a lot of the international competitions and translate it into something else.
"The top echelon of kung fu-wushu are starting to do M.M.A. (mixed martial arts) as well too, and doing rather well."
"A lot of people in sanda (wushu sparring) have made the jump to M.M.A. globally," said Missingham.
"It's a very, very big sport, and this provides pathways for people who can get into that, and if they're good at it they'll do well, we can facilitate that."
Lamb said wushu is a combat sport that mixes punching, kicking, grappling and wrestling, much like M.M.A.
"There's a lot of crossover between the other martial arts as well too, which we can draw on."
He said some of the people at training came from backgrounds in taekwondo, kickboxing and judo.
"Some of the fundamentals of punching, kicking don't change too much, there's technique behind it but you still need power."
Missingham said the sport is about more than just physical activity - it's about lifestyle.
"It provides great health benefits mentally as well as physically.
"It is a lifestyle thing that can improve your lifestyle from when you're a little kid, all the way to when you're 80 years of age."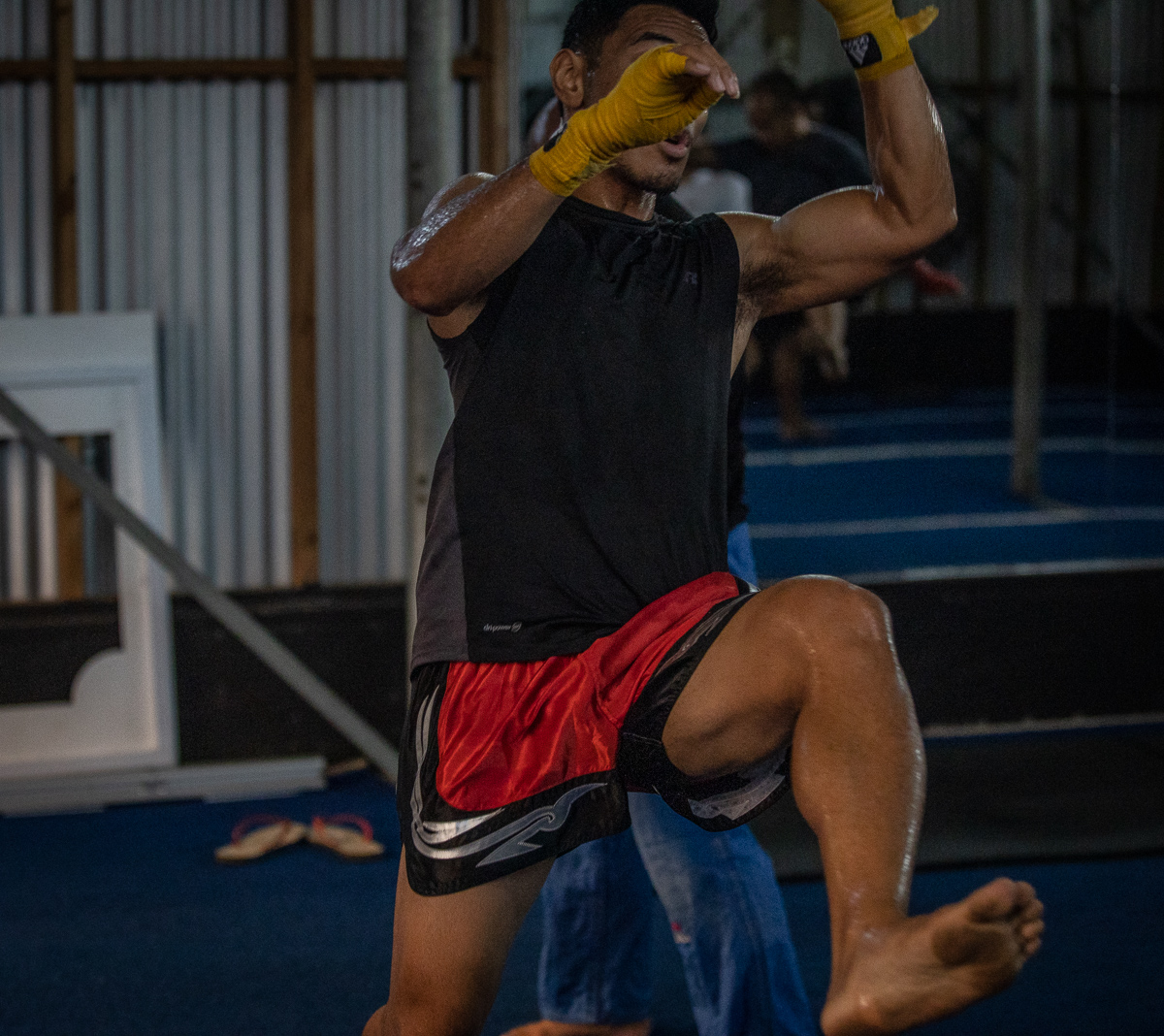 Lamb said he is grateful the sport in Samoa is receiving help.
"Without the support of China and the Oceania Kung Fu-Wushu Association we wouldn't get off the ground."
He thanked JP's Gym for their support as well.
"They very kindly let us have [the training space] for free, since we're starting off at grassroots with nothing."
For anyone interested in becoming involved with Kung Fu-Wushu in Samoa, please contact Travis Lamb by phone 24886, mobile 7744885/7744886, or email [email protected].