Public servants, villagers turn up for foreshore clean-up
The huge turn out by public servants at Saturday's foreshore clean-up is a sign of Samoa's commitment to keeping clean and green, the Ministry of Natural Resources and Environment (M.N.R.E.) believes.
In a second mass cleaning exercise, the Government and members of the public gathered to pick rubbish from the nooks and crannies of the sea wall, from Mulinuu all the way to Vaiala and Moata'a. 
Ulu Bismarck Crawley, M.N.R.E Chief Executive Officer said the huge turnout of public servants shows the public awareness campaign on waste management is working. The Samoa Fire and Emergency Service Authority and M.N.R.E were out in full force, as well as several other government agencies.
The M.N.R.E and the Secretariat of the Pacific Regional Environment Program (S.P.R.E.P) have been campaigning long and hard on the issue, in the lead-up to the Pacific Games next month. 
"We are hoping that after the games, we've built enough awareness and provided the necessary support that we'll be able to regulate the campaign and allow the community to take ownership of it," Ulu said.
He believes Samoans understand the value of cleaning, so next is understanding waste management and having regulations and infrastructure to deal with it.
Samoa has already banned some plastic items to reduce the waste crisis, and Ulu said now M.N.R.E is looking at installing more rubbish bins in public places to reduce littering.
"What we see is there awareness is there, good ownership is happening but we need to make sure there is disposing places," he said.
"It's one thing to have the rubbish, but if you don't know where to put it and if you're rushing somewhere you just drop it."
M.N.R.E would take responsibility for collecting the rubbish and delivering it to landfill.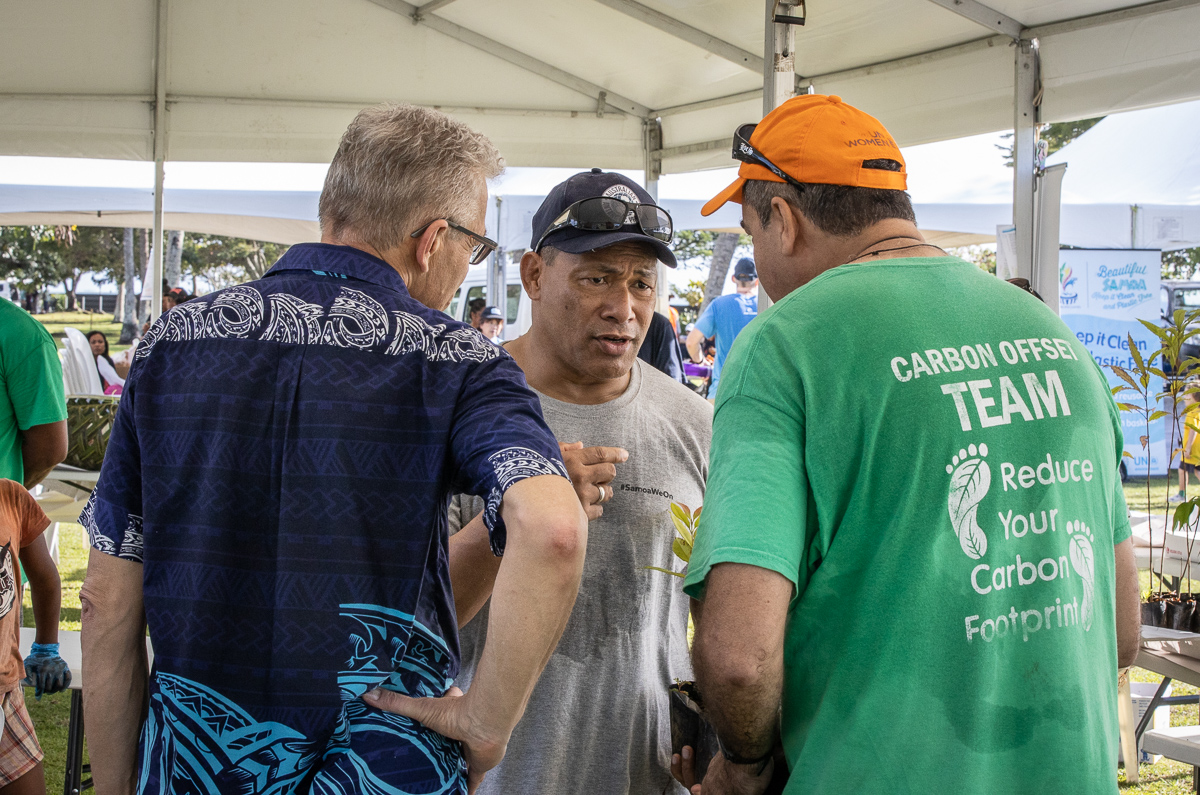 Director General of S.P.R.E.P., Leota Kosi Latu, believes the working bees are just part of a larger picture.
"These events are important for mobilising the community, so you don't do it once. If you want a paradigm shift, you want people to change their behaviour, you gotta do it more than once, it has to be repeated. If you don't change people's minds, forget it."
But the effort is a long-term one, and change cannot happen overnight. Mr Latu said the public response to "keeping Samoa clean and green" has been positive, even though there is more work to be done.
In an effort to clean the foreshore, plastic rubbish sacks were handed out to volunteers. And while it isn't the greenest choice, Mr Latu said for now it is just a way to "achieve a bigger objective".
"To do the job quickly with the time we have and the people that we have, you have got to be practical as well," he said.
"That does not detract from the higher objective. Let's not forget the bigger picture."