Family getting through life, but need a tank to store water
Anne Enoka from Lotofaga, Aleipata moved into their small family home — made from wooden posts and sheets of corrugated iron — three years ago.
The 29-year-old mother of two and her family previously lived with her mother-in-law.
But in 2016 they built their own house made from corrugated iron sheets, which was support by large wooden posts. The iron sheets were donated by her husband's uncle. 
The couple make ends meet by selling coconuts and vegetables, though Anne previously had jobs in the tourism sector through her employment with two different resorts. 
Speaking to the Samoa Observer of their daily challenges, Anne said besides the difficulties posed by the condition and size of their house, access to clean drinking water is also another hurdle that they will have to overcome.
Thankfully, work has begun on laying a water supply system, using underground water pipes and an outlet has been built next to the family home. The outlet now ensures 24/7 water access for the family, though it can only be used for laundry, washing dishes and bathing. They get their drinking water from her mother-in-law next door. 
"We get our drinking water from our old lady's tank next door, which was from the a Red Cross support scheme, including tanks for struggling families, but it didn't include us," she said.
Anne says while the pipe has given them access to water, they urgently need a water tank to start storing water from the water supply. 
"Even now as you can see, there is just a waste of water flowing but back here there is a lack of water most times. So now we're here to use the wasted water, to fill up our gallons because we don't have a tank.
"There is no water access to our house, they just started and this is where they are so far. Our district just requested for water, which is why this pipe is here they've just started, and it isn't complete yet," she said.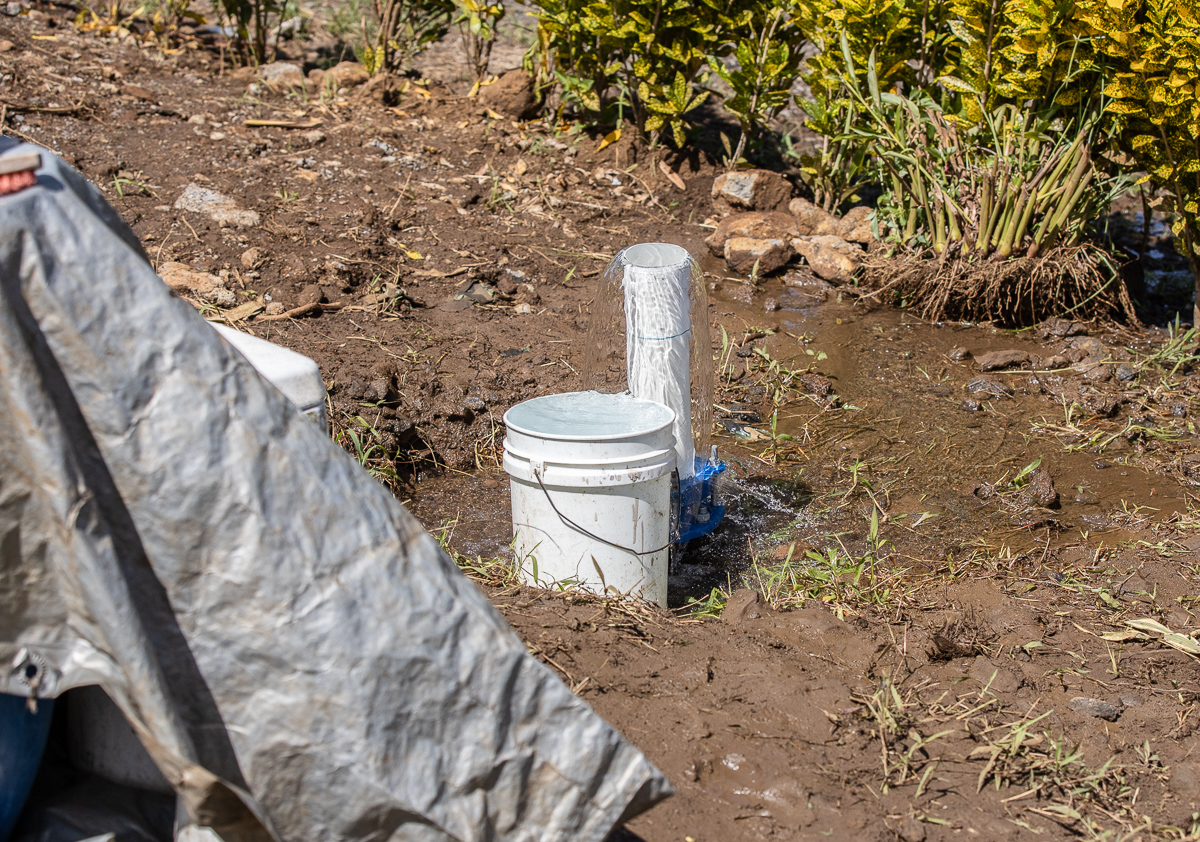 When asked why they weren't included, she said officials responsible for the water tank scheme said they did not meet the requirements because "their house was too small". 
"Our names were out in the list for a tank scheme, which is how these other families around here got theirs but they failed to do so, along with no support from our village mayor and our previous Member of Parliament; saying our house is too small.
"But I know water can still be collected, no matter how small our house is, especially for drinking water. Because if it wasn't for this pipe, we'd be walking to find water.  We go down the road to a place called "Koloavaku" to shower and do washing every single day, if there is no rain," she said.
The couple continue to be on the lookout for opportunities both locally and abroad. Anne's brief employment stints included working at two resorts, where her salary was inconsistent.
"I worked at (resort named) before, but my pay wasn't enough. Sometimes it would just be $80-90 in a week, starting from Sunday to Thursday.
"And some weeks they would only give me $60, which isn't worth it, and that's why I decided to stay. And then I went to (resort named) for work but it was the same thing.
"Now I stay to plant my vegetables and fruits including cucumbers, eggplants, pumpkins and pineapples to sell," she said, while adding that she would rather spend time with her kids and earn a decent income, rather than being away on a job and not earn enough. 
"We've also tried to seek opportunities for my husband to go New Zealand as fruit pickers and such but haven't been able to get anything, but I think this is for the best.
With neither of them working, Anne's husband collects coconuts while she looks after the children and sells the fruits of her labor in front of their home.
"Coconut is how we make our living. Coconut and the husk that is collected by the trucks from Vaivase and Togo Aasa for the making of coconut biscuits and such.
"If we put six bundles of coconuts in front of our house, we can get about $120. If three or four, we get $60 to $80 and that $80 is well enough for our weekly expenses including our children's lunches to school from Monday to Friday.
The couple have been together for about a decade with their two children, seven-year-old Pati and five-year-old Fa'amita Fetalaiga both attending the Lotofaga Primary School.