New Manusina impressed by locals in training

By Thomas Airey

•
23 May 2019, 8:00PM
New Manusina recruit, Eta Mailau, called her first training session with her Samoan-based teammates a big challenge, and a real eye-opener.
The 24-year old hooker from Utah, U.S.A. arrived in Samoa yesterday, and had her first run with the local national team players today.
"They're a great bunch of athletes really, compared to America," she said.
"America's got some good athletes, but these girls, in this heat, I doubt us Americans could do this."
Mailau, of Salea'aumua, Aleipata, is one of 27 players selected to represent Samoa in next week's Tri-Series with Hong Kong and hosts Fiji.
She said she is nervous ahead of her full international debut, but excited at the prospect of playing for Samoa.
"I know I have a lot of room to improve due to the weather and the heat, but I've gotta just keep pushing forward and be on the same level as the girls."
Mailau grew up and still lives in Utah, where she was raised by her Samoan mother and Tongan father.
She joins the Manusina having recently switched international allegiance.
"I've tried with USA Rugby, i've been in their Under-20s and Under-23s, and I've been to many of their senior camps but sadly I didn't get picked.
"I still have a lot to work on, I'm forever grateful that Manusina picked me up.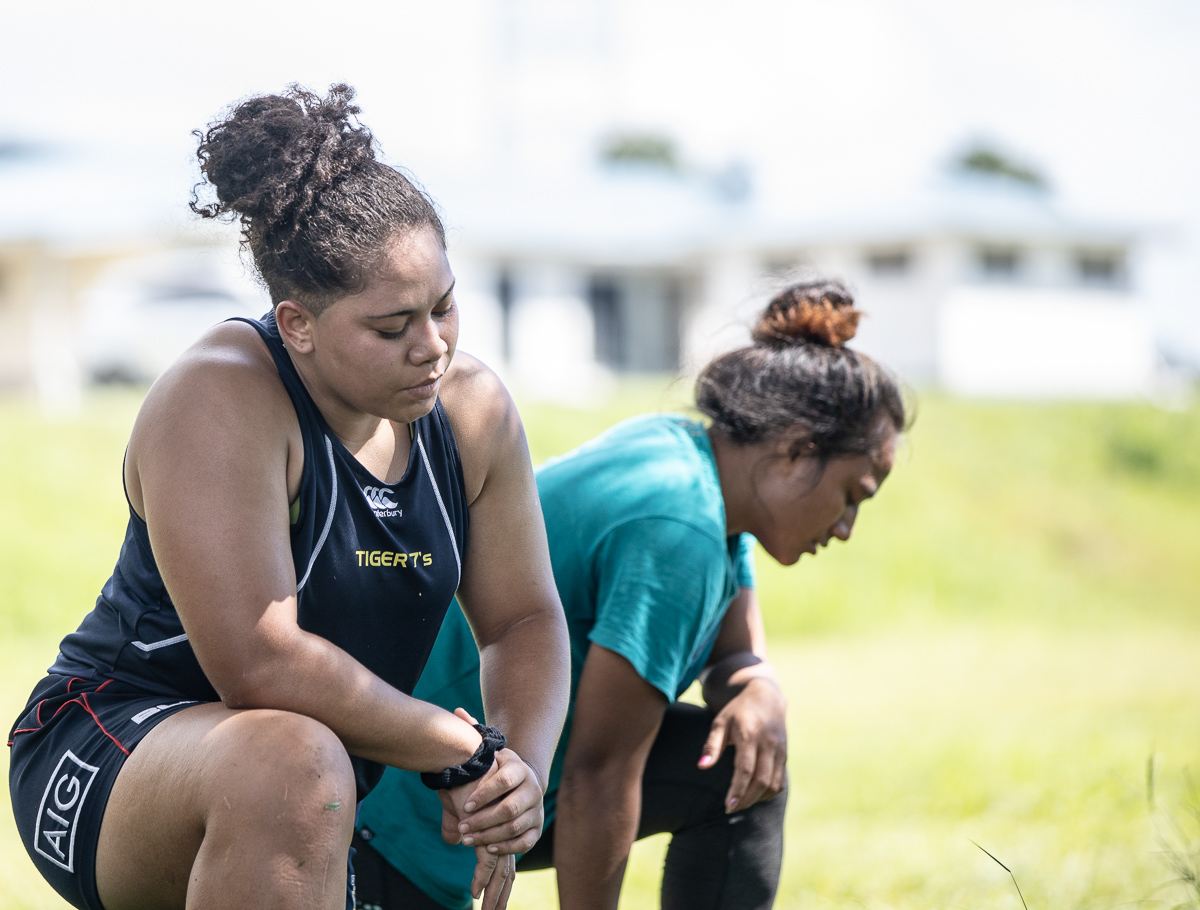 She said the chance to embrace her heritage is exciting.
"I get to come and represent my mother's birthplace.
"Be with the people, be with the girls and represent the country."
This is Mailau's first time being in Samoa.
"It's a beautiful country, I love it," she said.
"For now my weakness is the language barrier.
"A little bit more talking with the girls and I'll probably pick it up."
Mailau is staying with her mother's family in Aleipata.
"I finally get to meet my grandparents which is a happy but sad moment because it's been forever, I've never been here."
Utah is home to 44,000 Pacific Islanders (as of 2016), as well as the headquarters of The Church of Jesus Christ of Latter-day Saints.
Mailau said she grew up around Polynesians, and the church is a big part of Utahn life as it is in Samoa.
"[Samoa] feels like home, but a little bit different."
She said at first it was hard trying to play sports when growing up.
Mailau's mother wanted her to play volleyball and basketball, the classic American sports for girls until her uncle introduced her to rugby.
"My mother was not happy at first, she said it was for boys and for boys only.
"The Polynesian culture; the girls are supposed to stay inside and do the cooking and cleaning and everything."
But Mailau fell in love with the game immediately.
"I didn't know the rules or anything, the coaches threw me in there and all of a sudden it just clicked, the first game.
"Now my mum is loving rugby, so she's learning the game too as a fan."
Her mother and the rest of the family will be hoping to watch Mailau's debut for Samoa against Hong Kong on Tuesday or Fiji next Saturday.
After the Tri-Series, Mailau will return to Samoa for more training, with her sister Apaau coming over from Utah to take part in Manusina 7s trials for the final Pacific Games squad.
"I wanna stay and watch my sister compete."
Tags
Rugby union
Samoa Rugby Union
Samoans abroad

By Thomas Airey

•
23 May 2019, 8:00PM