President Nelson delivers devotional at Pesega
The pouring rain did not stop thousands of members of the Church of Jesus Christ of the Latter-day Saints from attending a church service led by their church's President Russell M. Nelson at the Pesega Temple grounds in Apia on Saturday night.
The devotional was also attended by the Head of State, His Highness Tuimaleali'ifano Vaaletoa Sualauvi II and his wife, Her Highness Faamausili Leinafo Tuimalealiifano, L.D.S. Church leaders, and Cabinet Ministers.
President Nelson arrived in Samoa on Saturday afternoon and was in the country as part of a tour of Oceania countries including New Zealand, Australia, Fiji and Tahiti.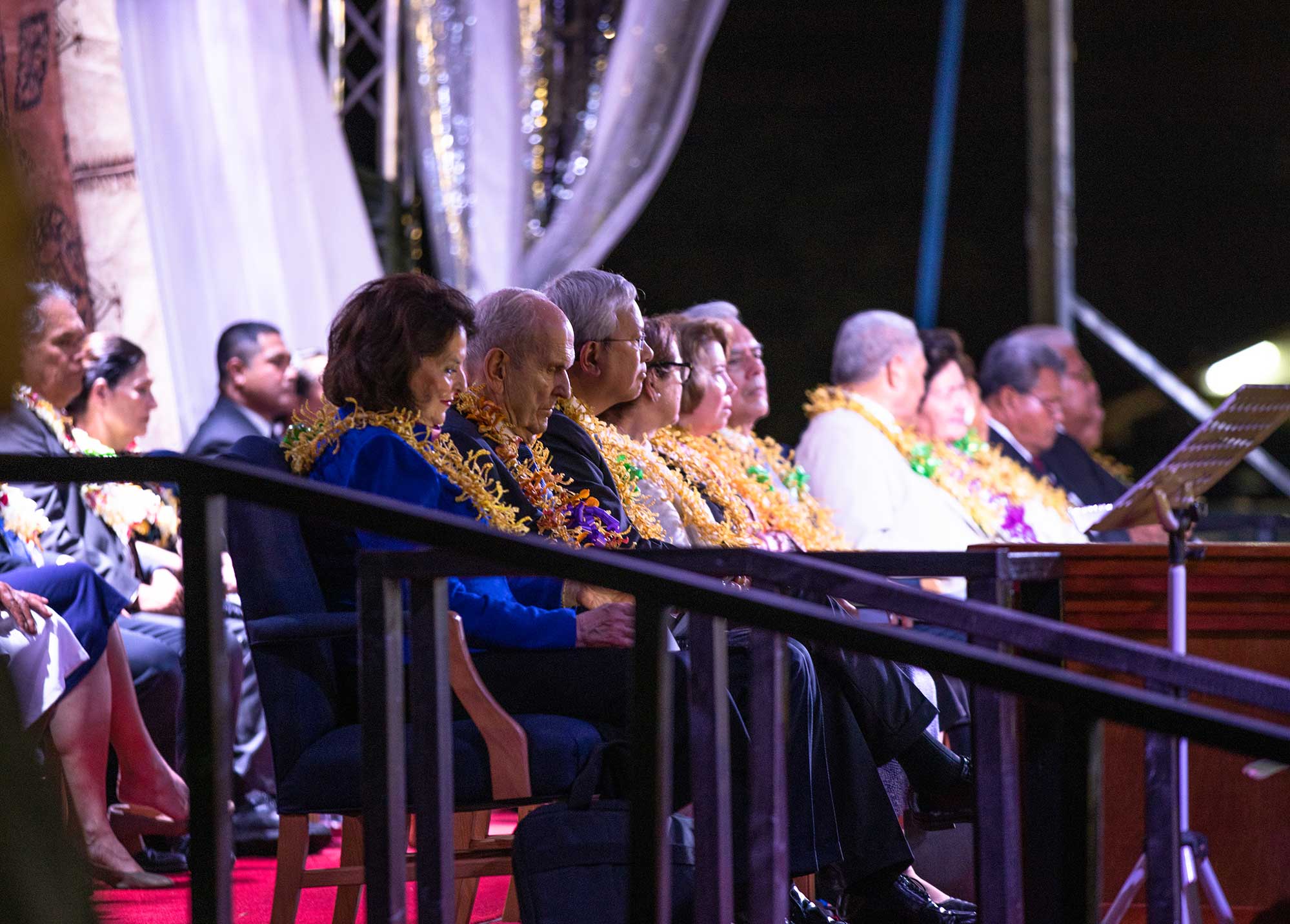 The Church President acknowledged Samoa's Head of State and his wife for hosting a reception for him before the devotional.
"We are truly grateful for your warm welcome. I thank everyone for your great faith that has stopped the rain.
"The Lord has asked me to tell you all tonight that that we have the solemn duty to prepare our people for the difficult days that are ahead.
"Apostle Paul taught us in 2 Timothy chapter 3 '..in the last days perilous times shall come. For men shall be lovers of their own selves, covetous, boasters, proud, blasphemers, disobedient to parents, unholy. Without natural affection, trucebreakers, false accusers, incontinent, fierce, despisers of those that are good. Traitors, heady, high-minded, lovers of pleasures more than lovers of God; Having a form of godliness, but denying the power thereof,'" he said.
President Nelson stated that "the Apostle Paul has explained these circumstances that we will face in the future and to some extent already."
"Paul offered these wonderful words of advice 'turn away.' And he continued his prophecy; he said that all who will live godly in Christ Jesus shall suffer persecution - and all that will live godly in Christ Jesus shall suffer persecution.
"But evil men and seducers shall wax worse and worse, deceiving, and being deceived.' Church members in the Samoan islands, you are not immune from this persecution.
"To all my dear brothers and sisters willing to take up the name of Jesus Christ prepare to be persecuted every day," he said. 
He also said that the Apostle Paul said that "from a child you have known the holy scriptures, which is able to make you wise unto salvation through faith which is in Christ Jesus."
"This is why we are all engaged in this holy work, we need to strengthen our people against the attacks from the adversary. Don't be discouraged God will give you strength and revelations to help all your hearts desires," he added.
His Highness Tuimaleali'ifano acknowledged God for the chance to speak at the devotional.
"We thank the Lord for this opportunity, it is the same God that Samoa worships as highlighted in our constitution which states that 'Samoa is a Christian nation founded of God the Father, the Son and the Holy Spirit'.
"And with that being said we give God the glory and honor for everything we have that is from Him. It is a pleasure to have had the opportunity to meet President Nelson and your good lady Sister Nelson.
"We just met this afternoon at our home at Vailele and I am grateful for your love for our people here in Samoa and the LDS Church. May the good Lord bless and guide you in your travels because the distance from here and Salt Lake City, Utah, America is very far away," he added.
The Head of State said that he always wondered what the secret President Nelson has for long life.
"I always wonder because President Nelson is 94-years-of-age I think I will ask you what is your secret so that I may attain some years like that if God be willing but may God bless this gathering and return the glory back to Him."
President Nelson and his wife left Samoa Sunday morning for Australia.