"Naturale" gets top place in 2019 College Science Fair
Robert Louis Stevenson Senior School took out first place at the recent annual Science Fair Competition.
"Naturale" or Natural Deodorant was the winning project that secured first place for 16-year-old Okalani Mariner together with her two supporters, Meilin Lameko and Ronina Meredith.
The idea and product is initially Okalani's but together all three girls put together a final product that addresses body odor and the low self-esteem that often comes with it. 
Okalani, who is the college's Deputy Head Girl, told the Samoa Observer the idea and motivation behind the project came from within her own family.
"The reason behind my story personally was that growing up,  my mum used to tell me stories about how they were too poor to afford an actual deodorant or a deodorant itself.
"And so they had to use lemon in order to get rid of the smell because like my grandma taught her that body odor was something to be ashamed of and like I don't want a child to feel low self-esteem for something they can't control," said the Form 6 student.
She said the product development process took about six months, when they were able to come up with something for both normal and sensitive skins.
Trials were done on her close families and friends in order to get feedback and further improvements when necessary, but preparations for the science fair alone took two weeks, Okalani added. 
"So we wanted to create something that empowers people and empowers kids to understand that this is something that's not a problem about them and it's okay and other people struggle with it as well.
"And so with the help of Ronina and Meilin, they helped me create this product; this natural deodorant," she said.
She revealed that she will continue improving the product and that there is already talk of registering Naturale as an intellectual property.
Okalani said they aim to make Naturale affordable for everyone, consequently the main ingredients are local. The application has a lotion-like consistency that can be applied to armpits. 
To mark World Intellectual Property Day, the Ministry of Commerce Industry and Labour (M.C.I.L.) in collaboration with Scientific Research Organization of Samoa (S.R.O.S) and the National University of Samoa (N.U.S.), have hosted the annual Science Fair Competition in the last three years. 
The competition was divided into three categories: essay writing, exhibitions and projects.
Speaking to Mesepa Iene, who was the teacher leading the science fair team, she said it was a good thing Okalani had a project she was already working on, and said the organizers could have given the students more time to prepare.
"Their project was great because she had enough time beforehand. By the time those guys (M.C.I.L.) brought in the information to have students enter the competition; it was already nearing the end of last term.
"So for us, we didn't have an entry for the essay competition due to the lack of communication between us and the students. We gave them the information, but it's up to the child to follow up. Lucky for Okalani, she's been working on it for a long time so she decided to enter into the competition," she said.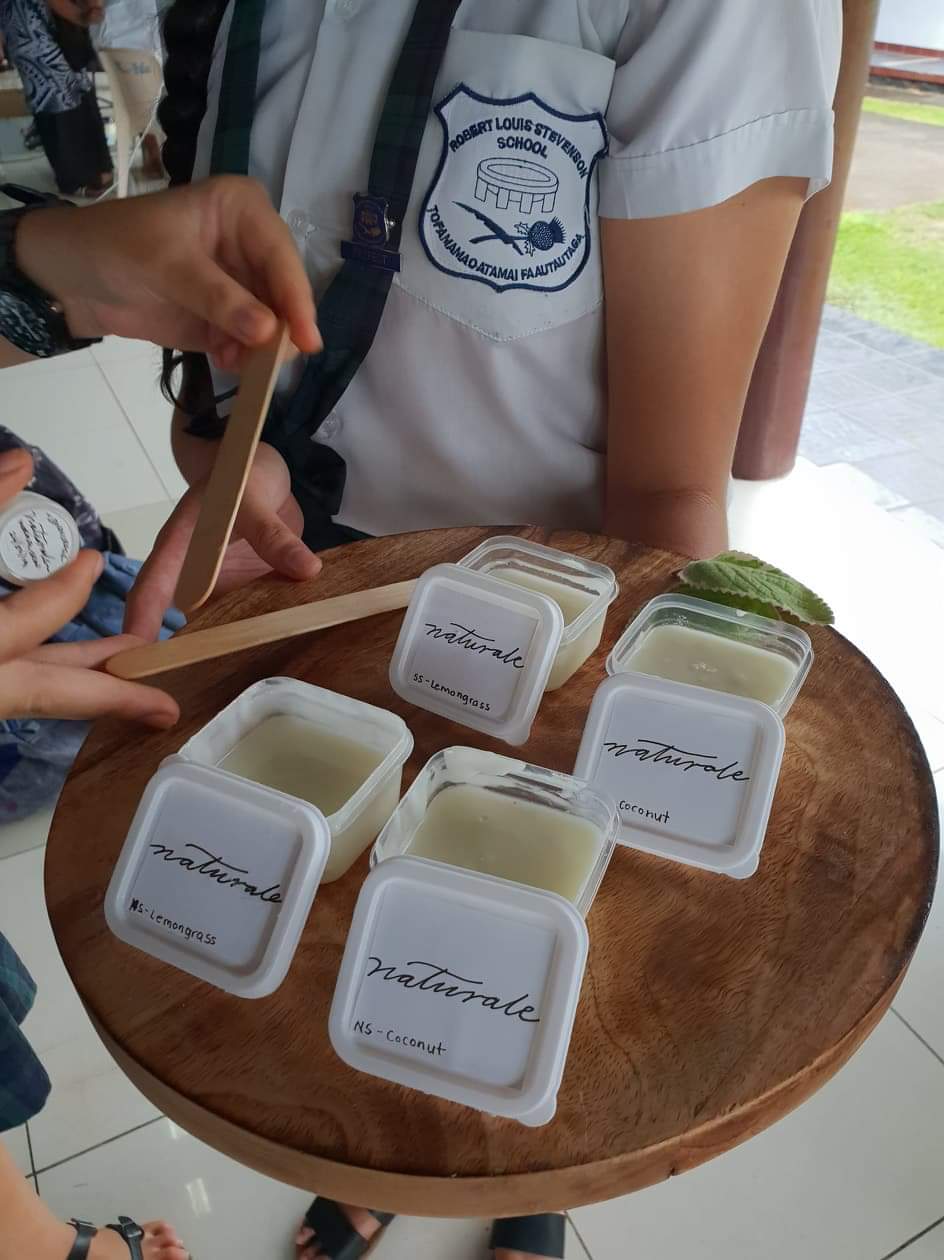 According to Mrs. Iene, Robert Louis Stevenson College did not enter the essay category but was able to enter three presentations for the project category.
"Another thing that was good about it was the fact that the category was open for each school. Because some categories like display; only had one entry from each school and essay only had two entries for each school. But luckily for the Form 6, they could do as many projects as they can," she said.
She commended the M.C.I.L. for the initiative which has enabled the students to showcase their scientific talents. 
"Thank the M.C.I.L. for these competitions that allows the talents and knowledge of the students to be showcased but it would be nice to give the kids enough time to prepare. 
"Maybe during half way through the first term, they should be introducing it to the schools. So that by this time, in the beginning of [second] term, and the kids have already prepared and trialled their products and projects," she added. 
Okalani is the daughter of Vui Sebastian and Shorley Mariner of Salelologa, Sinamoga, Tulaele and Lalomanu.