Senior Pastor uses Easter to call on youth to return to Church and remember God
A senior Minister of the Congregational Christian Church of Samoa has used the Easter weekend to urge youths and young people of Samoa to remember God in everything they do.
Speaking to the Samoa Observer, the Pastor of the Congregational Christian Church of Samoa at Vaitele Uta, Reverend Muao Su'a, said Jesus Christ's death and resurrection, which is being celebrated throughout the country this weekend, is a reminder that there is more to life than just merely existing.
"The message is that there is hope for all of us," he said. "The only thing is this world we live in; we usually take it for granted as how we just live without a second thought of what comes after.
"But when we keep in mind that Jesus died and rose from the dead for us; then we know that we all end like this also, but we need to accept Jesus as our saviour first."
This was the gist of the message from Rev. Muao to his congregation.
He was among hundreds of Senior Pastors and Reverend who spoke about Jesus Christ's victory during their services today.
Like other pastors, Rev. Muao believes we should live by the Christ's example, as this is the only way for us into the Kingdom of God.
While many people face different challenges and tribulations, he said Jesus Christ faced the ultimate test and he came out victorious.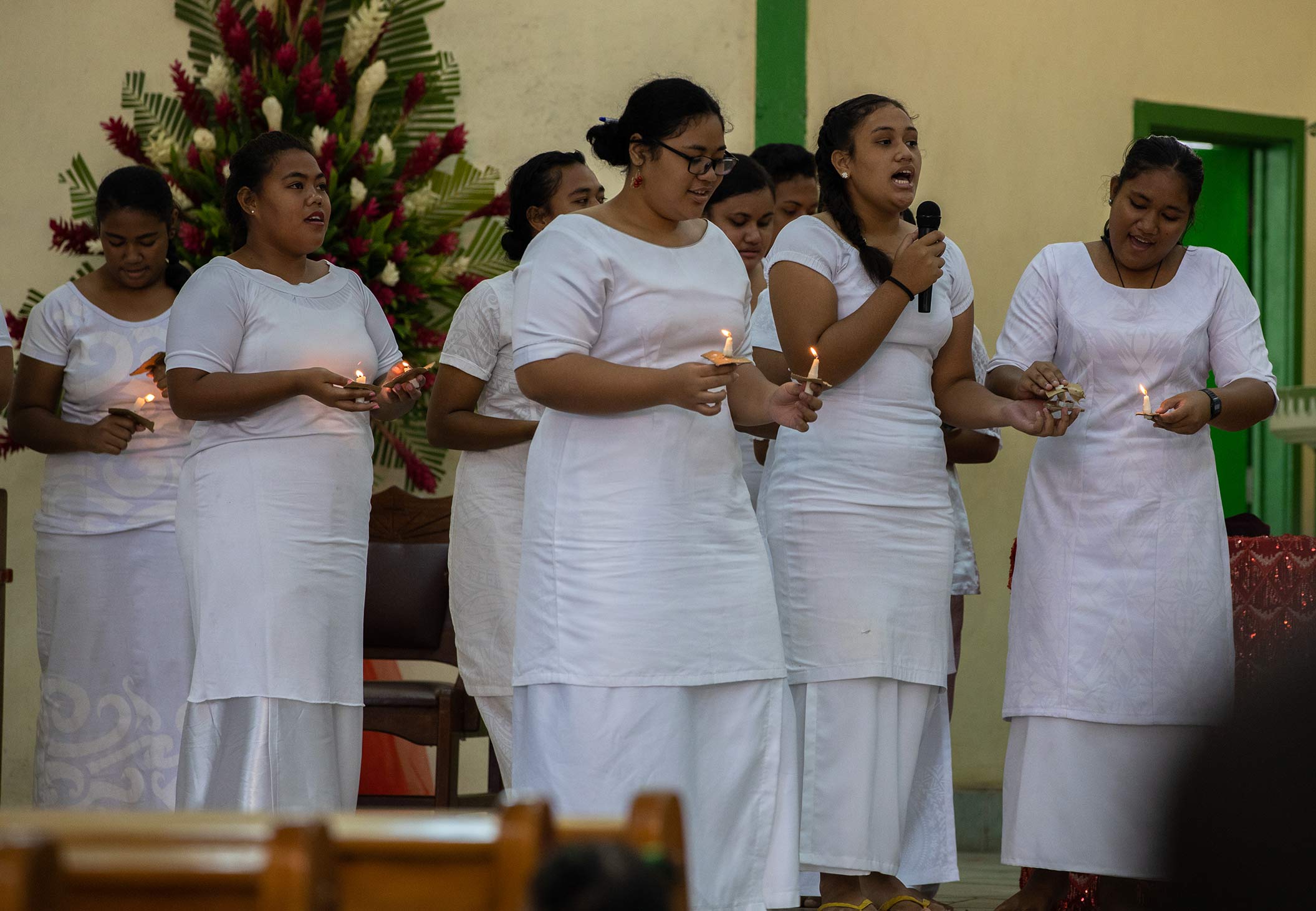 "We should live like Christ," he said. "He has given us an example to live by, we all die and we will rise again if we do His will. All this that we currently see happening around the world, the Lord says this is nothing as there is life after death, whether we are sick or poor in this life, there is a better life that awaits us.
"No matter how hard life can get, we ought to work for the Lord keeping in mind that there is a better life after this, that is the victory which we are all vying for," he said.
He wished to remind the youth also that we are not meant to only remember the Lord in tough times but in everything that "we do, and the importance of getting involved with church, to be reminded of the Lord's love and mercy.
"That is only if we are willing to do what He wants of us; we can't just muck around in this life while hoping to go to heaven and that's the message I wanted to relay for this resurrection Sunday.
"We are in the fallen world, starting from Adam and Eve in the beginning and we cannot escape every form of temptation that's coming like technology and such in this age, but the only thing is that we should remember Jesus," said Rev. Su'a.
"As I have said, nobody is perfect but if you are affected by this worldly matter, just keep in mind, Jesus loves you because Jesus is and always will be knocking on our doors.
"Because life is like that, we grow up not giving it much thought and only tend to feel the knocking when you're getting older," he added.
Rev. Muao believes that going to church and getting involved with activities that remind you of the Lord and his blessings is the best way a youth can choose to live.
"So the message to the youth is that, yes in reality they are constantly being tested but I advise them to keep going to church, as church can be a reminder of God's love.
"As the words go, it's important to attend funerals as it reminds you that we all die and it's an inevitable fate, just like going to church, it reminds you that there is a life after death, but if all you do is "ka'a" then eventually, you forget about these important things."
"Go to church, go to youth; no one is perfect but it reminds you of things that we are all striving towards after this life, which is the Kingdom of God," restated Rev. Su'a.